August 5–October 22, 2016

Things, Mereology and Schemes
Leon Ka aka Kafre (Barcelona, Spain)

---
Things, Mereology and Schemes
Leon Ka aka Kafre (Barcelona, Spain)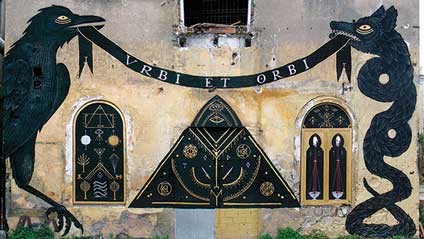 Artist's Reception: Friday August 5, 2016 7–11pm
part of the South FIRST FRIDAYS Art Walk
Leon Ka / aka Kafre (b. Barcelona, Spain 1980) is a Ph.D. student at Universitat de Barcelona with a dissertation on Metaphysical Relations: Ontological Dependence and Metaphysical
Implication as well as a street artist that uses his art to make visual these seemingly abstract and esoteric concepts.
Kafre's solo exhibition Things, Mereology and Schemes is a new body of work focused on three main topics of particular interest to the artist: (1) Things–the distinction between the natural things, non-natural things and the artifacts that occur between them; (2) Mereology–the philosophical and mathematical study of parts and the wholes they form, and (3) Schemes–a scheme consists of a table's structure, which physical constitution is mainly due to columns, names and variables and the relation between them; used to map out something, or to design the internal of a logical system; the main points of an argument or theory, etcetera.
Leon Ka (aka Kafre) is a philosopher whose area of research is analytical metaphysics. His career in the visual and graphic arts began in 1991 with graffiti and began to evolve towards his current aesthetic and street art activism as his interest in metaphysics grew. Kafre has had several solo exhibitions in Spain & Germany, as well as featured in group exhibitions in England, Italy, Denmark, Ireland, France, U.S. and Spain. Things, Mereology and Schemes at A.D. is Kafre's first solo exhibit in the U.S.
Exhibition dates: August 5–October 22, 2016
Gallery hours: Tuesday–Friday Noon–7pm and Saturday Noon–5pm
VIEW & PURCHASE AVAILABLE WORKS ONLINE

---
Opening Night: Friday October 7, 2016 7–11pm
with live poetry and part of the South FIRST FRIDAYS Art Walk
We love zines! This is our 8th "Art of Zines" show over the past 16 years and like the past exhibits, we will have hundreds of zines on view; but this year it will be a show of zines from all over the world; PLUS there will be a limited supply of exhibition zines available for sale so you can add them to your own collection and support the subculture. (Pricing varies from $1.–$20. and is first come first served until we are sold out.) The legendary V. Vale will be present with his RESearch Publications in the gallery as will the incomparable Tiny Splendor.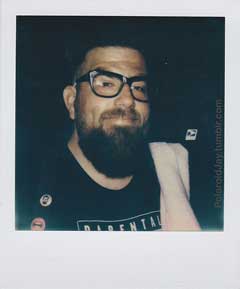 While you peruse these DIY publications; Mighty Mike McGee & friends will be performing live poetry readings on the half hour from 7:30pm thru 10:30pm.
Mighty Mike McGee is a funny stand-up poet from San José, California. He's performed his comedic storytelling and poetry in thousands of cities and towns for millions of ears throughout the U.S., Canada and Europe. McGee won all of the most coveted U.S. poetry slam titles and is one of the best known and liked people in the world of chatty writers. He's been featured on CBC, NPR and HBO multiple times and takes pride in making people laugh and cry from the stage.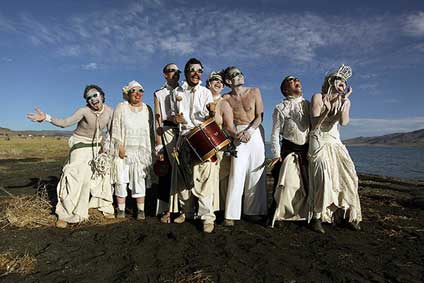 Special performance: Bad Unkl Sista will be roaming in and around Anno Domini on S. First Street, offering spontaneous improvised pieces – a continuous performance tapestry woven in the moment.
Bad Unkl Sista is an ensemble that combines choreography, music, costuming and physical theater to produce site-specific experiences that seek to move each witness to a state of extraordinary and memorable being. Led by artistic director Anastazia Aranaga and music director Goyo Aranaga, the group designs performances that present opportunities for close interaction and deep contemplation.

Exhibition dates: October 7–22, 2016
Gallery hours: Tuesday–Friday Noon–7pm and Saturday Noon–5pm

---
LOCATION & HOURS

Anno Domini // the second coming of Art & Design
366 So. First Street map
San Jose, CA 95113
408.271.5155
www.galleryAD.com

Gallery Hours:
Tuesday through Friday, noon - 7 p.m.
Saturday, noon - 5 p.m.
Free Admission

Art " Music " Performance " Life

Get Together.


return to top


UPCOMING EVENTS...
Best of the Y2K16
Int'l Live Looping Festival
OCT 19th, 6–11pm
(featuring a Tribute to
the Loopers of Mexico)
details coming...
SAVE THE DATE!
Join us for the next
South FIRST FRIDAYS Artwalk
NOV 4th, 2016 from 7–11pm
www.SouthFirstFridays.com
@ArtwalkSJ on Twitter

<--------------------------------------->
---
Get Together with Anno Domini.
---