galleryONE April 5–May 11, 2013
Death Will Tear Us Apart
solo exhibition of Mike Egan (Pittsburgh, PA)
---
galleryTWO May 3–May 30, 2013
Art of Zines 2013

Death Will Tear Us Apart
solo exhibition of Mike Egan (Pittsburgh, PA)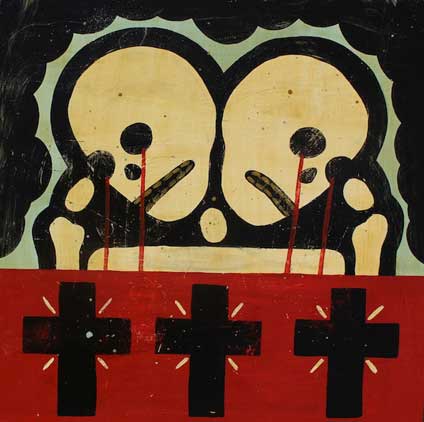 Making Our Crosses Grow, acrylic on wood, 14" x 14", 2013
Artist's Reception: Friday, April 5, 2013 from 7–11pm RSVP
Music: Comfort Slacks
Exhibition dates: April 5–May 11, 2013
ART OF ZINES 2013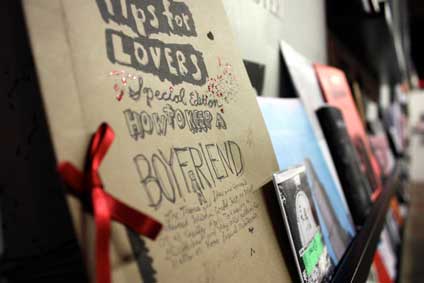 from Art of Zines 2010 at Anno Domini // the second coming of Art & Design
Art of Zines 2013 featuring hundreds of zines from basements, bedrooms and midnight copy shops from throughout the US and abroad. Come check out these diy, cut-and-paste, copied-on-the-cheap, hand-folded, self-distributed gems that continue to surface because someone, somewhere feels the need to express themselves.
Several zine makers will be on site with their latest issues for sale.
Opening Reception: Friday, May 3rd, 7-11pm RSVP
Music: tba
Exhibition dates: May 3–30, 2013
---
LOCATION & HOURS

Anno Domini // the second coming of Art & Design
366 So. First Street map
San Jose, CA 95113
408.271.5155
www.galleryAD.com

Gallery Hours:
Tuesday through Friday, noon - 7 p.m.
Saturday, noon - 5 p.m.


Art " Music " Performance " Life

Get Together.


return to top


Upcoming Events...
SAVE THE DATE
6th Annual SubZERO Festival
June 7, 2013, 6pm 'til Midnight
www.subzerofestival.com

<--------------------------------------->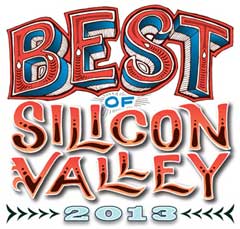 Voted one of San Jose's
Best by Readers of Metro Newspapers since 2008!
Thank you!
---

Anno Domini ranked #43
in Juxtapoz Magazine's
Top 100 Galleries/Museums
around the globe.
---
Get Together with Anno Domini.
---