galleryTWO
March 7 –April 19, 2014
We's Gone Be Fine
new works by Jeremiah Maddock
exhibition info

Anno Domini is pleased to welcome the return of Jeremiah Maddock to the gallery with his third solo exhibition since 2009 A.D. A hyper prolific artist, Jeremiah continues his intensely patterned drawings as well as his unique figurative themes. In 2011, Jeremiah came to San Jose for his opening reception from New York City....deciding shortly afterward he wasn't going back. Since then, he's been living in a house, near a river in the Pacific Northwest, with the fish, otters, deer and bald eagles.
"This work, like most of my work, is an ongoing process of exploration.
Through the process of creating I find part of my brain and spirit that, so far I can only access through hours and hours of creating and building my visual language. To me it feels like meditation, or at least, what I understand meditation to be. It is a feeling that I am addicted to and so I keep on searching all the time–I can't go out and buy it anywhere. With this feeling comes warmth and peace, love and angst, and a freedom of knowing that there is no right way to be an artist...it's a great freedom...it connects me, I feel, to something other worldly or maybe just worldly...I wouldn't know. While I am working, the pieces look amazing to me...like it has a pulse or electrical current weaving through it...when I wake up the next day, it seems to be gone and it looks like just another drawing. It is through the process of making that I find the images and concepts–if there are any to be found. Barely ever do I have preconceived ideas when I sit down to work (which should explain somewhat this vague paragraph.) Though I have been making things for a very long time, I feel I have barely scratched the surface of what can be, so I will keep going through this maze until I find that flood gate. There is a lot for me to look forward to."
~Jeremiah Maddock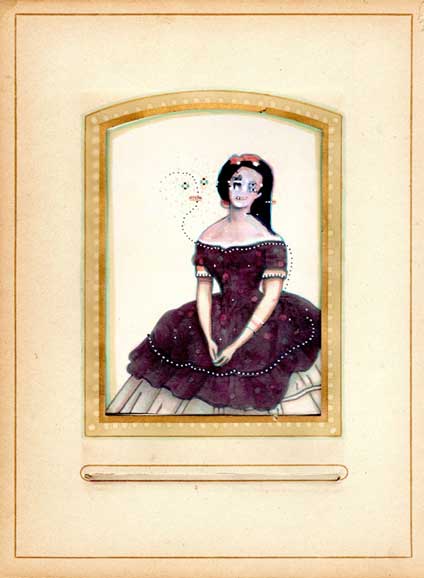 Opening Reception: Friday, March 7, 2014 from 7–11pm RSVP
Exhibition dates: February 7–March 22, 2014
---
I Stand for Sacrifice
new works by Bill Dunlap

VIEW & PURCHASE AVAILABLE WORKS ONLINE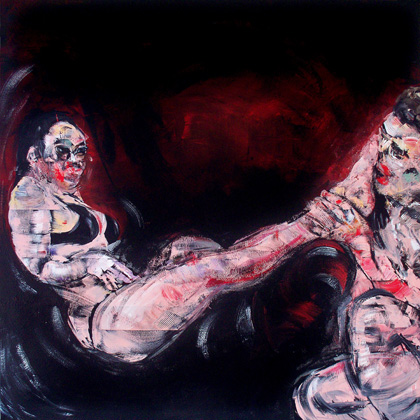 The title comes from Shakespeare's Merchant of Venice, and Shakespeare is a near daily inspiration for me. Every piece I make starts from a different motivation. Motivation can come from anywhere.That's part of the immense freedom of art. For these pieces, some motivations I could name include: paintings by old masters, internet pornography, Appalachian quilts, and how I felt and what I was thinking day to day as I worked on them.

I think pictures are best when they're like poems. William Kentridge wrote that viewing art is like trying to reduce to sense a riddle that has no answer. "Reducing to sense" is a diminishment of the power of the painting.A great painting is free beyond that kind of control, or rather, it is so strong it can carry a thousand different interpretations and still remain a riddle with no answer.A good one always manages to slip away. I always try to slip away!

I've heard Agnes Martin say that she "painted with her back to the world." That's funny, but I think also very telling. I feel utterly isolated sometimes, and painting the way I like to paint requires lots of solitude. In this way, I think I'm boiling things down to the rarest essentials. I used to think that painting only a few things was a limitation, but now I'm beginning to think that's the goal. Find the riddle you can never answer. For me, maybe it's the face or the figure, and maybe the land. But I've done almost nothing with the land yet.

~Bill Dunlap
Bill Dunlap is an artist who splits his time between Western Maryland and New York City. Most of the art-making happens in Maryland. His work has been shown extensively in galleries and museums across North America and Europe, including recent solo shows at the University of Maryland and at galleries in Boston, Denver and San Francisco. His work is included in several permanent collections, including the library collection of the New York Museum of Modern Art and recent acquisitions by the Universities of Wisconsin and Maryland.
His work was recently featured in an exhibit at the Museum of Fine Arts in Boston, and he is currently engaged in a large-scale ongoing commission from the University of Maryland to paint murals on barns across the state. He and his work have been featured widely in print, television, radio, and on many art blogs. He has also worked as an illustrator, and his images and cartoons have appeared in magazines and newspapers nationwide.
Opening Reception: Friday, February 7, 2014 from 7–11pm RSVP
Exhibition dates: February 7–March 22, 2014
---
LOCATION & HOURS

Anno Domini // the second coming of Art & Design
366 So. First Street map
San Jose, CA 95113
408.271.5155
www.galleryAD.com

Gallery Hours:
Tuesday through Friday, noon - 7 p.m.
Saturday, noon - 5 p.m.


Art " Music " Performance " Life

Get Together.


return to top


Upcoming Events...
<--------------------------------------->
South FIRST FRIDAYS
Art Walk
MARCH 7, 2014, 7–11pm
www.southfirstfridays.com

<--------------------------------------->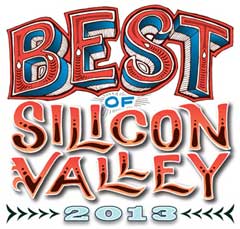 Voted one of San Jose's
Best by Readers of Metro Newspapers since 2008!
Thank you!
---

Anno Domini ranked #43
in Juxtapoz Magazine's
Top 100 Galleries/Museums
around the globe.
---
Get Together with Anno Domini.
---