Orbital – cut up and rewired is Dale vN Marshall's second solo exhibition at Anno Domini Gallery in San Jose, California.
This exhibition is made up from one single thirty foot self-portrait, a portrait Marshall exhibited illegally on the streets of Bristol earlier this year. Orbital was attached to an enormous billboard and seen by many people whilst withstanding torrential rain and strong winds. Marshall then cut up this enormous work, rescuing, restoring and 'healing' each section in his studio before sending them on their journey to be exhibited in California.
The physical life journey of this work is totally significant when viewing this show. By initially placing this work on a billboard in the streets of Bristol, Marshall is reflecting on the time he spent there as an illegal graffiti artist. Now that this work now hangs in a Californian Gallery is hugely symbolic as California became Marshall's home when he won a scholarship to study abstract painting in 2012; a proud moment of glory after a severe personal battle with mental health. Anno Domini gave Marshall his first solo show at the time and this series celebrates this positive cycle of events asking the viewer to appreciate that there can be positives when it comes to the taboo of mental illness.
Orbital in its new guise can be read as a series of bruised, honest and time trodden self-portraits. Each work is infused with scars and scrawls, yet worked up and repaired into a complete and finished piece. The networks of lines in each work represent aerial cityscapes drawn from memory of visions Marshall had whist being locked up and treated for insanity. Each work is a collection of Marshall's experiences with illness, healing and health.
­In essence, this exhibition celebrates survival; Marshall's story challenges us to reflect on issues of mental health and ultimately how we treat people who suffer from similar afflictions–can they also be rewired and restored to better health?
Dale vN Marshall was originally a graffiti artist in Bristol under the tag "Vermin" during his formative years. He went onto to become a graduate of Coventry University Fine Art and studied Graduate Abstract Painting at California State University, Long Beach. Marshall has had successful exhibitions in the UK and US as well as a landmark solo exhibition at the Herbert Art Museum in Coventry, UK in 2014. and most recently, a sold out series of work at the prestigious LAPADA Art & Antiques Fair 2015 in London, England.
Opening Reception: October 2, 2015 RSVP
Music: DRKMTRLS performing throughout the night
Exhibition: October 2–December 12, 2015
---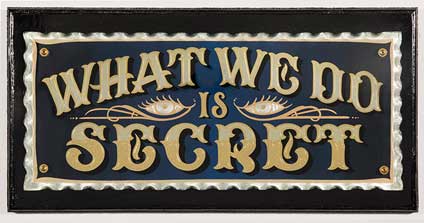 "What We Do Is Secret" by Ken Davis, 1shot enamel, gold leaf on acid etched glass
Through his foundation in traditional hand-lettering and reverse glass gilding techniques, Ken Davis creates a full new thematic body of work for "We are Savages" his first solo exhibition for Anno Domini. Ken draws from his life experiences in the creative subcultures of skateboarding, punk rock, folk, and hip hop as well as his upbringing in a family rooted in the 60's counter culture to create work that is influenced by authority-questioning and DIY ethics he was raised in. The title "We are Savages," like several of Ken's slogan type phrases used, can be interpreted several ways and most all could be correct. He believes that modern craftspeople and dream chasers; the ones that eat, sleep and breathe their convictions and crafts without much desire for monetary gain or social status are viewed (often with intrigue) in the current dominant culture of shortcuts, greed, and instant experts as "Savages."
Through both fast-reading slogan style sign making and laborious reverse glass gold leaf mirroring and painting, Ken celebrates the cultures of craft through his work and reflects his love and genuine admiration for anyone and everyone that has the motivation and desire to pursue what they love for a living without concern for conventional benchmarks of success. "When it's time, it'll come" and "The Universe does not forsake anyone who is creating with positive intent" are two quotes that have carried Ken through often turbulent times of being a professional artist and craftsperson. The body of work on top of celebrating the Savages of the past, present, and future also cautions his peers to read the fine print in dealing treaties with more mainstream groups. He urges them to keep a watchful eye on the intents of some of the outside influences that hope to identify in part with the growing surge in enthusiasm towards creative culture.
Ken Davis (b. 1982) is a native son of the San Francisco Bay Area and has been immersed in the life of sign painter and commercial artist. His education comes about from his grandfather who was a professor of archaeology specializing in the Native American experience and those who were kind enough to share their experiences and knowledge. His work is frequently seen in both brick and mortar shops as well as private collections throughout the world. He lives a slightly nomadic life between the East Bay Area and anywhere he is sent to travel to work on projects.
Artist's Reception: Friday, August 7th from 7–11pm RSVP
Exhibition: August 7–October 3, 2015
VIEW AVAILABLE WORKS ONLINE