Current exhibits
galleryONE:
Joseph Loughborough (Berlin, Germany), solo exhibition
Artist's reception: March 2, 2017

VIEW & PURCHASE AVAILABLE WORKS ONLINE
Joseph Loughborough's third solo show with Anno Domini pushes his oeuvre into the realm of colour. Influenced by a fusion of Primitive art, Colour-field painting and Stuckism, this new corpus of distorted characters and figures explores the notion of experience and naivety.
"Notches" take many forms for many reasons. They appear on the nose of a plane, the bedpost, the handle of an axe. They can be found engraved on the wall of a prison cell marking days or years incarcerated. They symbolize an accumulation of some kind. Over the period of a lifetime we could argue that our bodies develop their own lexicon of expression. We become greyed, wrinkled and scarred. We gain experience, we accumulate. We become marked.
In his new series he uses the notch as a motif to symbolically imbue the work with experience. In a particularly cathartic manner this is contrasted with his experiments into colour which he openly admits to being intimidated by. He uses the structure he is familiar with – The portrait – to engage and confront his naivety by fearlessly bathing these depictions in a provocative palette.
Joseph Loughborough, b. 1981, spent his formative years exploring the derelict boatyards and creeks of Portsmouth, on the south coast of the UK. After graduating from Portsmouth University he pursued interests in art, philosophy and skateboarding culture, living in London, Paris and currently Berlin, Germany.
VIEW & PURCHASE AVAILABLE WORKS ONLINE
Artist's reception: Friday March 2, 2018 from 7–11pm
Exhibition dates: March 2 – April 14, 2018

---
"FACES RAW" Barron Storey, solo exhibition
Artist's reception:
Friday, April 6th from 7-11pm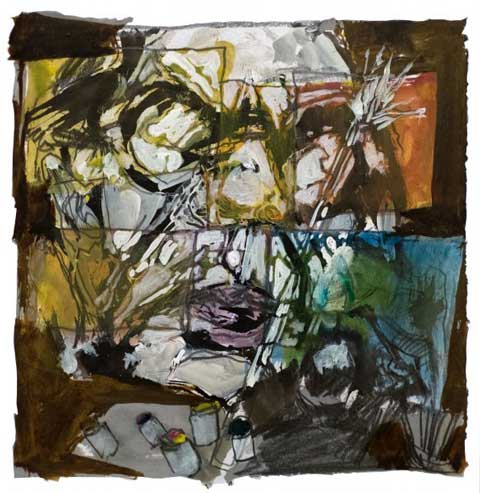 There's something about faces. I remember my mother saying: "Barron always looks at faces…". A big part of my illustration career–a habit in my journals–an exercise for my students ("The BIG HEADS") and a focus in the art I've loved. I see faces in everything – everything. I was blown away by Chuck Close's huge faces as much as Mona Lisa's….
I'm also seriously attracted to modern abstract art– I see faces there, too. Faces in my own abstract mark making, faces in a de Kooning or a Pollock…."it's always a face." That's a frequent comment in my journals….which leads me to say: "I'm a journal guy". In over 200 journals I've illustrated my life – a life which has become very withdrawn as I age and do much less teaching. Cue the "selfies"–I draw a character based on my own appearance over and over–not looking in a mirror–not really "looking" at anything except the clutter of art supplies on my drawing board. I was taught to emphasize "seeing." Seeing faces or other images in the marks made by my hand has, to an extent replaced observation of "reality" – looking "inside" rather than outside.
So when invited by the excellent Brian and Cherri of ANNO DOMINI to show new work, I had to face the fact that almost everything I do now is in my journals (500 pages in the last year and a half) so ….show THAT work.
By the way, almost all of it is very raw. My new esthetic is what I call "SPLAT." I've lost almost all interest in refined realist painting. "SPLAT" is a process by which the images make themselves. I see images in every splat, and like everything else I look at–those images tend to be–you guessed it–faces. FACES RAW. ~ Barron Storey
Barron Storey (American, b. April 6, 1940) is an illustrator, graphic novelist, fine artist and noted educator, Storey has created award-winning artworks for the covers and pages of Time, National Geographic, Saturday Review, and The Sandman: Endless Nights among many others including the cover of the classic novel Lord of the Flies by William Golding (1980 edition.) His artworks are held in the collections of the National Air and Space Museum, the American Museum of Natural History, and Smithsonian's National Portrait Gallery. "FACES RAW" is Storey's 7th solo exhibition with Anno Domini.
Artist's reception: Friday April 6, 2018 from 7–11pm
Exhibition dates: April 6–May 12, 2018

---
LOCATION & HOURS

Anno Domini // the second coming of Art & Design
366 So. First Street map
San Jose, CA 95113
408.271.5155
www.galleryAD.com

Gallery Hours:
Tuesday through Friday, noon - 7 p.m.
Saturday, noon - 5 p.m.
Free Admission

Art " Music " Performance " Life

Get Together.


return to top


UPCOMING EVENTS...
SAVE THE DATE!
Join us for the next
South FIRST FRIDAYS Artwalk
April 6, 2018 from 7–11pm
www.SouthFirstFridays.com
@ArtwalkSJ on Twitter

---

An Evening with Composer, Performer & Poet Jaap Blonk
and SCLOrk
April 7th at 7:30pm
Event details...
---
Get Together with Anno Domini.
---