Sediments
an exhibition by MONKEY BIRD (Paris, France)
Artists' reception:
First Friday November 1, 2019 7–11pm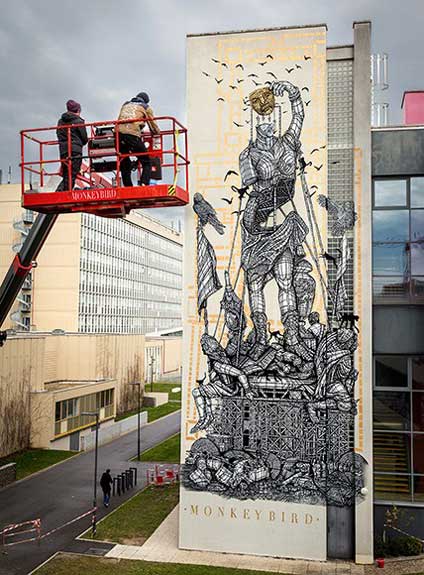 "Le Colosse Aux Pieds d'Argile" (Colossus with Feet of cClay), Nanterre, FranceCcelebrating the 50th anniversary of May 1968. 20m x 7m, handcut stencils.In collaboration with Musée du Louvre and Université Paris Nanterre.
Artists' reception in galleryTWO: Sediments by Monkey Bird (Paris, France)
Monkey Bird, an anonymous French contemporary artist duo, began their work in Bordeaux in 2010 and have been leaving their signature all around the world ever since.
They are known for using symbolic anthropomorphism in their artworks, transcribing social and anthropologic enigmas into mural art.
Their work is based on elaborate symbolism, as well as an ideal notion of artists as craftsmen. They have established specialized practices in hand crafted stencil artwork and also use mixed medias such as spray painting, drawing, carving, silkscreen, and engraving.
The aim of the duo, through the figures of the pragmatic monkey and the utopist bird, is to incarnate the two faces of humankind split between their materialistic obsessions and their spiritual values.
Monkey Bird loves working on antique furniture, old walls, and abandoned ruins.In this way they offer a second breath of life to the oblivion, to consolidate the chain which links us to the past.
Prior to their current projects on the walls of museums and institutions, both artists worked on the street (which is where they first met). One of them was looking for a change in his graffiti and the other a change in framework and identity. The symbols came to them naturally, which were primarily an instinctive need. They have matured their concept with practice and common reflection, giving their approach an intellectual note.
Members of the crew are university graduates with degrees in graphic design and industrial object design. In their work, a search for balance of wisdom is visible as their goal is to become the alchemists of the living desire. The artists are inspired by art history, antique craftsmanship, monumental architecture, mythology, and religious artworks.
"Sediments" by Monkey Bird at Anno Domini is the duo's debut solo exhibition in the United States.
Artists' reception: Friday NOV 1st, 7–11pm
part of the South FIRST FRIDAYS Art Walk
The First Friday reception features DJ T.Spillman spinning vinyl throughout the evening in the gallery.