Current exhibits
galleryONE:
Bruno 9li (Sao Paulo, Brazil), solo exhibition
Artist's reception: October 6, 2017

VIEW & PURCHASE AVAILABLE WORKS ONLINE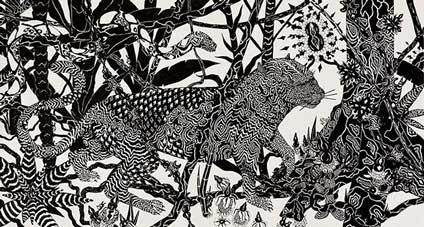 "Mystical Amazonia Jaguar" by Bruno 9li, ink on 100% cotton acid free archival paper, 32 x 59 inches
Bruno 9Li returns to Anno Domini for his third solo exhibition since 2007. Bruno's new body of work "Night in the Tropics" embody his experiences with MAHKU in the Amazon Rainforest in the form of hyper detailed black and white drawings and accompanied by a soundtrack of native animals and the music of the indigenous people Huni Kuin he recorded during his stay there.
"Night in the Tropics" by Bruno 9Li
"Night in the Tropics" is a series of drawings started in an immersive experience in Amazonia with the art indigenous collective MAHKU / Movimento dos Artistas Huni Kuin (Huni Kuin art movement). Night in the Tropics consists of very detailed, intense and sharp line drawings made of black ink on paper. I think that ink drawings have this direct connection between an state of mind and its process. It's direct, that's why I decided to dedicate to that language just to give to the drawings as fresh substance as I could. For this series of works I have renounced color as a philosophical act, just to propose a mode in which I could experiment reality considering the simplicity of black and white.
About the forms represented in my drawings; I aimed a joyful way to deal with Brazilian and amazonian imagery, popular culture and deep experiences with the Huni Kuin myths. The forest, specially through the Huni Kuin lens, is the theme and form the atmosphere for "Night in the Tropics". The sacred tea Ayahuska (or "Nixi Pãe" in Huni Kuin language) is represented by the many vines that crosses in a wiry way good part of the drawings. I aimed to transmute, in a very personal way, my perceptions of the forest, the way Huni Kuin (the people of the boa constrictor myth) live Amazonia and its enchantments.
There is a popular, generous and seductive feeling in these drawings, a kind of affective presence. Those animals represented in "Night in the Tropics" impose a personality and also can remind like the first representations of Brazil from the European travelers that painted the Brazilian flora, fauna and culture in the beginning of XIX century (Debret, Taunay and Rugendas), but they come in this very personal form in its comic and mysterious presence. I also aimed to bring different icons of Amazonia/Brazil to pervert them with iconic popular cartoon from North America – there are small "intruders" in most of the drawings – like an ambiguous presence of a deep intricate and very detailed drawings with popular culture.
VIEW & PURCHASE AVAILABLE WORKS ONLINE
Artist's reception: Friday October 6, 2017 from 7–11pm
Exhibition dates: October 6 – December 9, 2017

---
Zero Cents (Tel Aviv)
Artist's reception: September 1, 2017 from 7-11pm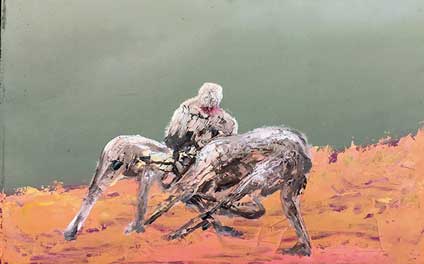 ANNO DOMINI // the second coming of Art & Design presents the return of artist Zero Cents from Tel Aviv, Israel for his second solo show here at A.D. This new body of exquisite, richly textured works–entitled "A Planetary Profile" – include "essence portraits" of the human condition as well as vast landscapes depicting whispers of ancient ruins and our titualistic interaction with our past.
A Planetary Profile by Zero Cents (Tel Aviv, Israel)
Zero Cents presents a sampling of the peoples and landscapes of this strange little ball of rock and water we call Earth. Through multiple series of oil paintings on canvas and wood panels he depicts a warped range of life on our plant. From brutal butchers to noble builders, and from barren deserts to lush forests, there are so many different kinds of life inhabiting this beautiful living rock; all playing a role in the characteristics and energy of the planet. Big or small, complex or simple, no matter how different life on this planet is; we are here together spinning 460 meters per second. We are all a part of this magnificent organism, our planetary body. We feel its energy and we live from it.
In a way we are like our own microbiota or gut flora, the thousands of bacteria types and hundreds of species that live inside of our bodies. Strange simple microbial life like Firmicutes which are extremely strong and very good at surviving extreme environments; or Cyanobacteria which are amazing at producing and releasing oxygen–so much that as a result the brought the Anaerobic life forms to near extinction, a genocide of sorts. All these bacteria have many different behaviors and characteristics all affecting us in one way or another–some of these life forms can have a profound effect on us and how we function as humans. They can control different cravings we have for food also how we feel and how we behave. This is much like our own species and how we have changed and will continue to change behaviors and characteristics our world. These microbial life forms are all tied together even though they our hundreds of species behaving as they will some affecting our bodies in positive and some negative. Regardless of actions or behavior they are all bound to one another. They share a world.
VIEW & PURCHASE AVAILABLE WORKS ONLINE
Artist's reception: Friday September 1, 2017 from 7–11pm
Exhibition dates: September 1–October 14, 2017

---
LOCATION & HOURS

Anno Domini // the second coming of Art & Design
366 So. First Street map
San Jose, CA 95113
408.271.5155
www.galleryAD.com

Gallery Hours:
Tuesday through Friday, noon - 7 p.m.
Saturday, noon - 5 p.m.
Free Admission

Art " Music " Performance " Life

Get Together.


return to top


UPCOMING EVENTS...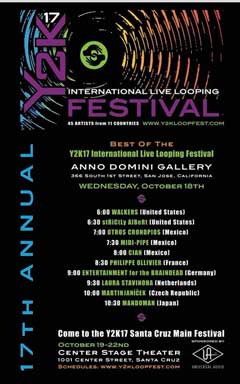 Best of the Y2K17
Int'l Live Looping Festival
Wednesday, OCT 18th
from 6-11pm
Admission: Free
More event info here...

---
SAVE THE DATE!
Join us for the next
South FIRST FRIDAYS Artwalk
November 3, 2017 from 7–11pm
www.SouthFirstFridays.com
@ArtwalkSJ on Twitter

---
Get Together with Anno Domini.
---