Current exhibits
galleryONE:
Night in the Tropics solo exhibition of Bruno 9li (São Paulo, Brazil)
Exhibit ends: February 17, 2018
part of the South FIRST FRIDAYS Art Walk
more info...
---
galleryTWO:
Intimations of Substantiality Beneath solo exhibition of
Sergej Vutuc (B. 1979, Doboj, Bosnia and Herzegovina)
Exhibit dates: February 2 – March 19, 2018
Artist's Reception: February 2, 2018 from 7–11pm
part of the South FIRST FRIDAYS Art Walk
more info...
Bruno 9li (Sao Paulo, Brazil), solo exhibition
Artist's reception: October 6, 2017

VIEW & PURCHASE AVAILABLE WORKS ONLINE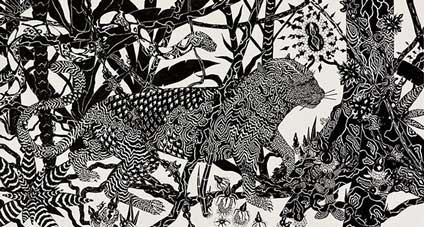 "Mystical Amazonia Jaguar" by Bruno 9li, ink on 100% cotton acid free archival paper, 32 x 59 inches
Bruno 9Li returns to Anno Domini for his third solo exhibition since 2007. Bruno's new body of work "Night in the Tropics" embody his experiences with MAHKU in the Amazon Rainforest in the form of hyper detailed black and white drawings and accompanied by a soundtrack of native animals and the music of the indigenous people Huni Kuin he recorded during his stay there.
"Night in the Tropics" by Bruno 9Li
"Night in the Tropics" is a series of drawings started in an immersive experience in Amazonia with the art indigenous collective MAHKU / Movimento dos Artistas Huni Kuin (Huni Kuin art movement). Night in the Tropics consists of very detailed, intense and sharp line drawings made of black ink on paper. I think that ink drawings have this direct connection between an state of mind and its process. It's direct, that's why I decided to dedicate to that language just to give to the drawings as fresh substance as I could. For this series of works I have renounced color as a philosophical act, just to propose a mode in which I could experiment reality considering the simplicity of black and white.
About the forms represented in my drawings; I aimed a joyful way to deal with Brazilian and amazonian imagery, popular culture and deep experiences with the Huni Kuin myths. The forest, specially through the Huni Kuin lens, is the theme and form the atmosphere for "Night in the Tropics". The sacred tea Ayahuska (or "Nixi Pãe" in Huni Kuin language) is represented by the many vines that crosses in a wiry way good part of the drawings. I aimed to transmute, in a very personal way, my perceptions of the forest, the way Huni Kuin (the people of the boa constrictor myth) live Amazonia and its enchantments.
There is a popular, generous and seductive feeling in these drawings, a kind of affective presence. Those animals represented in "Night in the Tropics" impose a personality and also can remind like the first representations of Brazil from the European travelers that painted the Brazilian flora, fauna and culture in the beginning of XIX century (Debret, Taunay and Rugendas), but they come in this very personal form in its comic and mysterious presence. I also aimed to bring different icons of Amazonia/Brazil to pervert them with iconic popular cartoon from North America – there are small "intruders" in most of the drawings – like an ambiguous presence of a deep intricate and very detailed drawings with popular culture.
VIEW & PURCHASE AVAILABLE WORKS ONLINE
Artist's reception: Friday October 6, 2017 from 7–11pm
Exhibition dates: October 6 – December 9, 2017

---
""Intimations of Substantiality Beneath" by Sergej Vutuc
(B. 1979, Doboj, Bosnia and Herzegovina)
Artist's reception + sound performance:
FEB 2, 2018 from 7-11pm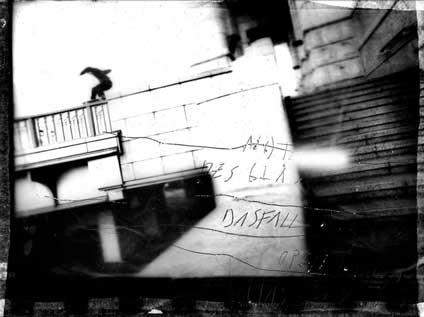 Since the mid 1980s Vutuc's work has been about observing the (over)development of modern society and the privatization of public space; nature being conquered by concrete, concrete being conquered by the subversive act of skating. The work is based in nomadic movement through space and time, an endless sense of mobility, existence in between cities, countries, borders, worlds etc. Contested spaces, such as Fukushima, Detroit, Chernobyl, Israel and Palestine–strong symbols of ongoing human error and conflict, mistakes and misdirections in socioeconomic development.
Then there is the documentation of this ever-shifting landscape (physical and symbolic) through analog photography, publishing zines, mounting exhibitions, making music, drawing on walls, constant collaboration (as the essence of human creative exchange) and generally non-stop action and movement; fragmenting, altering, rearranging reality over and over, as necessary.
But one must also follow the natural human urge to expand one's consciousness, to live in parallels, through imagination and it is here that Vutuc makes his departure to embark on a new series of work entitled Intimations of Substantiality Beneath. This exhibition begins a journey between exploring the landscape of flesh and passing moments on the way to somewhere; held in between, chosen by moment, by light, and by the energy drawn on the moment. It's a melting point of Vutuc's two latest publications: "there was something on the fence" and "jenseits von innen" ("beyond inside)".
Vutuc sees the "scratching on the surface of blurry dream and fantasy as the only existing reality based on self creation." The analog photo process allows for altering and scratching the film; another manipulation and questioning of (documented) reality. Adding to his poetic imagery music and sound allows an instant connection with the viewer, and reaction from an audience. All of this combined unifies the space of the work and allows a complete transformative experience. The energy created in this visual/soundscape confronts the viewer, challenging them to (re)see the strength and fragility of human relationships, family, tradition, intimacy, personal and global conflict. Vutuc's work functions to shift our perception of reality, humanity, and society in general.
Vutuc currently lives and works in Heilbronn, Germany.
Artist's reception: Friday February 2, 2018 from 7–11pm
Sound performance by Sergej Vutuc
Exhibition dates: February 2–March 17, 2018

---
LOCATION & HOURS

Anno Domini // the second coming of Art & Design
366 So. First Street map
San Jose, CA 95113
408.271.5155
www.galleryAD.com

Gallery Hours:
Tuesday through Friday, noon - 7 p.m.
Saturday, noon - 5 p.m.
Free Admission

Art " Music " Performance " Life

Get Together.


return to top


UPCOMING EVENTS...
SAVE THE DATE!
Join us for the next
South FIRST FRIDAYS Artwalk
February 2, 2018 from 7–11pm
www.SouthFirstFridays.com
@ArtwalkSJ on Twitter

---
Get Together with Anno Domini.
---