PLEASE NOTE our Holiday Schedule:
CLOSED: DEC 3rd–9th
OPEN: DEC 10th–14th
This is the closing week for Barron Storey
& Megan Diddie exhibitions.
CLOSED: DEC 17th through holiday season
Re-Open on First Friday, FEB 7, 2014
We're Always Available
(even during the gallery's end of year break)
via email: rEvolution [at] galleryAD.com.
galleryONE
November 1–December 14, 2013
The Wind Whips the Palm Fronds
new works by Megan Diddie
exhibition info


galleryTWO
October 4–November 16, 2013
Suicide
solo exhibition of Barron Storey (San Francisco, CA)
exhibition info


The Wind Whips the Palm Fronds
new works by Megan Diddie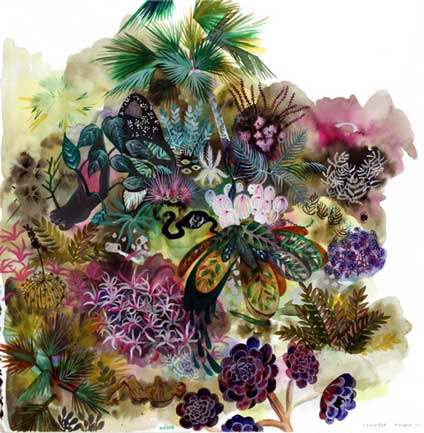 Breathing up from the ocean
To touch the tree covered mountains
To rain on the forest floors
The Fog blanketed our vision…

Now see a car, a pelican flapping by the windshield
Now see the bramble wrap around the leg
Now a thousand legs pounding out paths
Now the forms recoil, the surf slaps the rock

Phrases meshing images of plants
into half useful shapes:
A basket walled on three sides,
A shawl fraying violently at the end, becoming two
In air, Bougainvillea vines behind
A curtain of chimes, pushed by wind
Clanging against their wills

Images held, Images remembered
Now see Flowers in the phone
Winding through the Fog hung coastal range
Now trammelling ahead in Flatness
At rest.

~poem by Tim Hogan
Megan Diddie returns to Anno Domini for her second solo exhibition featuring a new series of works. Having grown up in California but now living in the midwest, Diddie's perception of the California landscape has changed. What was once familiar is now peculiar as distance, memory and comparisons to new environments change her perspective of her home state.
Opening Reception: Friday, November 1, 2013 from 7–11pm RSVP
Exhibition dates: September 6–October 19, 2013
The legendary illustrator and fine artist, Barron Storey, returns to Anno Domini for his fifth solo exhibition with the gallery. Having lost several people close to him to suicide: mother, her brother, ex-wife, and close friend, Storey began asking others: "Did you know anyone who committed suicide?" So many did. Storey made drawings of each one in his journals….pages and pages of them. The resulting art works on canvas are poignant, beautifully expressed moments of deep despair and the struggle to understand "why?".
An illustrator, graphic novelist, fine artist and noted educator, Barron Storey has created award-winning artworks for the covers and pages of Time, National Geographic, Saturday Review, and The Sandman: Endless Nights, among many others including the cover of the classic novel Lord of the Flies by William Golding (1980 edition.) His artworks are held in the collections of the National Air and Space Museum, the American Museum of Natural History, and Smithsonian's National Portrait Gallery.
Storey resides in San Francisco, CA and is a professor at California College of the Arts and San Jose State University.
Special music performances throughout the evening by Freya Seeburger (cello) & Giovanna Hutchison (soprano).
---
LOCATION & HOURS

Anno Domini // the second coming of Art & Design
366 So. First Street map
San Jose, CA 95113
408.271.5155
www.galleryAD.com

Gallery Hours:
Tuesday through Friday, noon - 7 p.m.
Saturday, noon - 5 p.m.


Art " Music " Performance " Life

Get Together.


return to top


Upcoming Events...
South FIRST FRIDAYS
Art Walk
DEC 6, 2013, 7–11pm
www.southfirstfridays.com

<--------------------------------------->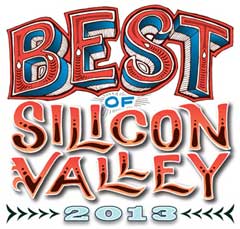 Voted one of San Jose's
Best by Readers of Metro Newspapers since 2008!
Thank you!
---

Anno Domini ranked #43
in Juxtapoz Magazine's
Top 100 Galleries/Museums
around the globe.
---
Get Together with Anno Domini.
---