"I've got a message for you, if I could only remember"
William Schaff, solo exhibition

Artist's reception: Friday, May 4, 2018 from 7–11pm
Live music during the reception by Lisa Dewey (Kitchen Whore Records) & John Testani (8pm, 9pm and 10pm).
VIEW & PURCHASE AVAILABLE WORKS ONLINE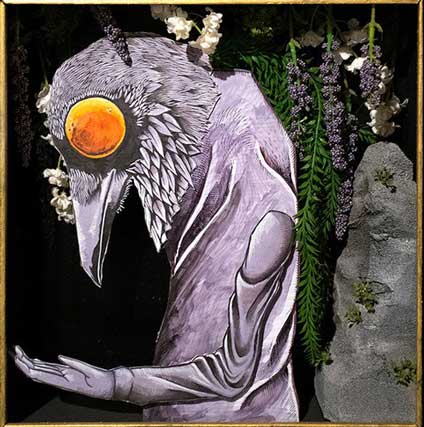 Enamored with traditional Chinese paper cuts (of both the classic and modern age), I was moved to try my own hand at the medium. The challenge becomes to not simply mimic the style I have come to love, but to try and fine a visual vocabulary more true to me. It's not that the traditional subject matter of animals and flora don't hold an incredible power for me as well, but I felt to stick only with those subjects made it harder for me to break away from simply trying to imitate Chinese paper cuts.
So I turned to the Bible – the book of my faith. I turned to the human/animal hybrids found in my other works. I included the nature I see around me, too, but I have looked to go further. Overall I feel this is a beginning. A strong beginning, but a beginning nonetheless. Thank you for sharing this experience with me. ~William Schaff
William Schaff (b. 1973, Boston, MA) has been a working artist for over two decades. Known primarily for his mastery at album artwork, (Okkervil River, Godspeed You! Black Emperor, Brown Bird, Songs: Ohia, etc) Schaff is also the founder of Warren Rhode Island's "Fort Foreclosure." The building, lovingly named without the least bit of irony, serves as Schaff's home and studio as well as home and meeting place for other artists (most notably resident musicians MorganEve Swain, and the Late David Lamb, both of Brown Bird). William, recognizing the importance of art in this world, recently expanded his community to the West Coast, where he started "The Outpost" in Oakland, California. There–financial earnings be damned!–William fills his days drawing works of art for private commissions, bands, and his own examinations of human interaction. "I've got a message for you, if I could only remember…" is Schaff's second solo exhibition with Anno Domini.