"I am losing control of the language."
William Schaff solo exhibition
Exhibition dates: May 5–June 17, 2017
VIEW & PURCHASE AVAILABLE WORKS ONLINE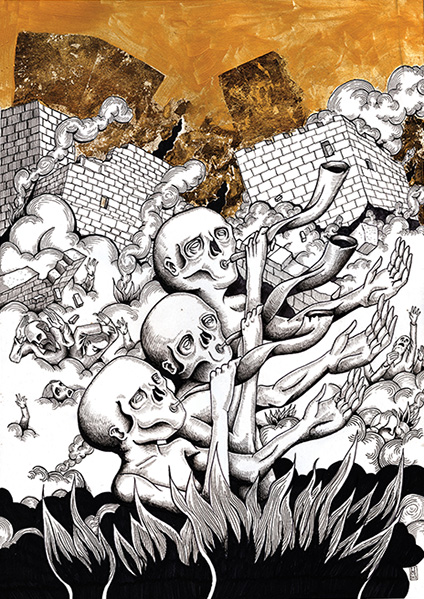 William Schaff has been a working artist for over two decades. Known primarily for his mastery at album artwork: Okkervil River, Godspeed You! Black Emperor, Brown Bird, Songs: Ohia, etc, Schaff is also the founder of Warren Rhode Island's "Fort Foreclosure." The building, lovingly named without the least bit of irony, serves as Schaff's home and studio as well as home and meeting place for other artists (most notably resident musicians MorganEve Swain, and the Late David Lamb, both of Brown Bird). William, recognizing the importance of art in this world, recently expanded his community to the West Coast where he started "The Outpost" in Oakland, California. There–financial earnings be damned!–William fills his days drawing works of art for private commissions, bands, and his own examinations of human interaction.
Exhibition dates: May 5–June 17, 2017
VIEW & PURCHASE AVAILABLE WORKS ONLINE

Exhibition dates:
February 3–April 15, 2017
---
Gallery hours:
Tuesday-Friday Noon-7 p.m.,
Saturdays Noon-5 p.m.
additional hours by appointment

Anno Domini
366 South First Street
(btwn San Carlos & San Salvador) map
San Jose, CA 95113
t: 408.271.5155


Art • Music • Performance • Life

Get Together.