Anno Domini presents...

Subtle Specifics – May 6-26, 2005

---
group exhibit - Blane Fontana, Charles Glaubitz, Joshua Krause, Tim McCormick, Jason Sherry and Deth P. Sun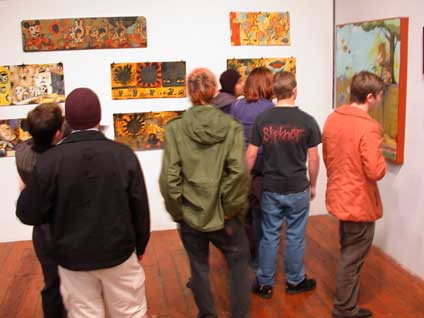 Blaine Fontana: Blaine's techniques have roots from an array of places. Some of the most pertinent ones are graffiti, photography and graphic design. Having grown up amongst acres of forests surrounding him and also growing up in the urban jungles of Seattle, WA, he got the best of both worlds. He developed an enormous imagination over the paths of two different environments. These are the polar opposites that create a harmonious balance of partnership, the inorganic and organic, the physical and metaphysical, order and chaos.

Charles Glaubitz: is from "La Linea" which is the border inside the paradox of Tijuana, Baja, California and San Diego where the first world meets the second world. He has been illustrating since he was three or four years old and is a graduate from the California College of Arts and Crafts with a BFA in Illustration. His cultural influences are hybridity, his father is German/American from Nebraska and is mother is Mexican from Los Mochias Sinaloa. His work is also a hybrid of the cultural duality that utilizes and combines iconography, symbols, metaphors, allegories, stealing, discarding, and experimenting with image from La Linea. His philosophy is a visual narrative...intuition, honesty, observation and imagination are the secrets to creativity.

Joshua Krause: Joshua draws from a fascination of popular culture, evolution, and myth and then adds something very personal to it: his daydreams, fears, inspirations, frustrations, wit, and humor. Using mainly acrylics and collage, his illustrations find their way onto a versatile array of surfaces: tattered book covers, wood, canvas, and found objects. His evocative blend of text and illustration stem from a dual interest in both literature and design, aiding in both content and context to the layered backgrounds and landscapes. But what seems more definitive to Joshua's art is his lack of formal training. Dubbed "Caveman Style" by fellow artist Tim McCormick, his work explores the inward narrative via the influence of impressionism, fauvism, and the found, folk and street arts.

Timothy McCormick: After 10 years of teaching himself to paint, Artist Tim McCormick had his first exhibition in 2001.Since then he has produced over 1000 paintings, shown extensively on the west coast, opened 2 art galleries, and come out of total absurity to exhibit with many artists a few years earlier he had only seen in magazines. This Southern California native's inspiration comes from a love and need to make art, and to express his feelings and thoughts through painting. Tim's work is about all aspects of life, from the most profound to the most trivial, everything is relative, everything is important. Tim's future plans are to paint everyday and further explore and improve his craft and visual language, while continuing to reach out to a larger audience.

Jason Sherry: Jason lives and works in San Diego. He received a bachelor's degree in fine art from San Diego State University. His work has always been set apart from the artists with whom he shows due to his distinct style and concerns of content. Jason is concerned with the real and the unreal so subsequently his work is photographic in nature. "I am concerned with presenting the absurdity of human history and culture by assembling disparate objects and images into new objects of great humor and meaning."

Deth P. Sun: Deth P. Sun was born in 1979 in Long Beach, California. He received a Bacholr of Fine Arts, with All College Honors, from Oakland's California College of Arts and Crafts where he studied painting and drawing. He has exhibited extensively in the past few years and has recently relocated to Los Angeles.


Artists' Reception:
First Friday, May 6th, 8 p.m. 'til late
Admission: free

Gallery Hours: M-Th, Noon-5 p.m.
additional hours by appointment
GALLERY CLOSED May 9-11, 2005

Anno Domini
150 So. Montgomery Street Unit B
(btwn Park & San Fernando) map
San Jose, CA 95110
t: 408.271.5151 / f: 408.271.5152
www.galleryAD.com

Art • Music • Performance • Life

Get Together.


View Available Artwork from the
Subtle Specifics group exhibit!