Anno Domini presents...

Simmer Down Sprinter - Opens August 8th, 2006
a bio-feedback controlled video game by Steve Lambert
on view August 8-12 [extended play] in Anno Domini's store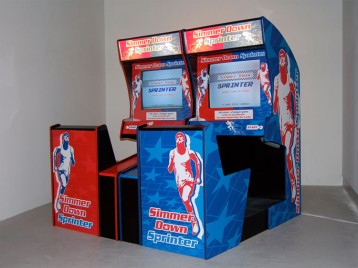 Simmer Down Sprinter is a two player, sit-down, arcade style video game designed and programmed by artist Steve Lambert in which players compete to move runners around a track.
The game is controlled by player's bio-feedback. The more relaxed the player becomes, the faster the runner moves around the track. Essentially it is a game of competitive relaxation.
Lambert takes the role of the runners in the video game, complete with track outfits in red and blue team-colors. Players rest hands on "team-colored" arm rests. The metal contacts detect changes in body temperature and galvanic skin resistance - similar to what is used for a polygraph test. When the player is more relaxed, the video of me running the track speeds up. If the player tenses up, the video slows down.
The game accepts 25 cent coins to start, so the player will be "invested" in winning. The video includes arcade style graphics that show the place (1st or 2nd) your runner is in, track position, speed, and a stress meter. Each player gets a team color, red or blue, and is shown that video on their screen. The "red screen" and "blue screen" are separate and individual, but start in sync with each other. Players are first shown a video of their runner stretching and warming up to an exciting soundtrack of Atari-style synthesized game music. The race is then run. At the end, the winner is shown a "the winner" screen and the loser, a "try-again" screen. The runner in the video celebrates or laments accordingly.
See how Simmer Down Sprinter was made!
This exhibition coincides with the ZeroOne San Jose Festival, a multi-dimensional event celebrating the intersection of art and digital culture August 7-13 in downtown San Jose. Held in conjunction with the prestigious International Symposium of Electronic Art, the festival provides an opportunity for participants to explore the connections between artistic expression and technological advancements.
ISEA / ZeroOne Festival Gallery Crawl - Tuesday, August 8th
8pm 'til late - free and open to the public
Exhibit on view through August 26, 2006
Gallery hours: Tues. - Sat., Noon - 8pm