Anno Domini presents...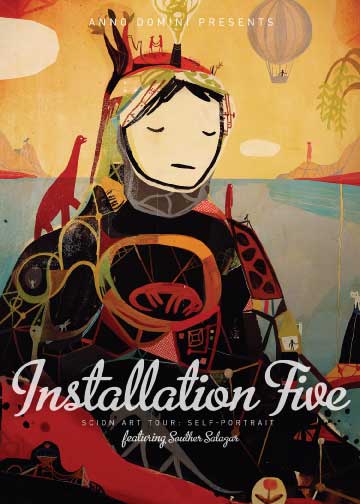 featured artwork by Souther Salazar

For this year's tour SCION asked each artist to create his or her literal, or non-literal interpretation of the theme 'Self-Portraits'. Video art will be included for the first time in the tour's five-year history, alongside painting and photography. Artists on the tour will include: AJ Fosik (3-D painting), Alex Hornest (painting), Andrew Schoultz (painting), Andy Howell (painting), Angela Boatwright (photography), Asylm (painting), Blek le Rat (painting), Christina M. Felice (photography), Codak (painting), David Choe (video art), Edwin Ushiro (painting), El Yem (video art), Eriberto Oriol (photography), Eye One (photography), Francesco LoCastro (painting), French (painting), Geoff Oki (video art), Ian Lynam (video art), J. Shea (painting), Jamel Shabazz (photography), Jeff Soto (painting), Kelsey Brookes (painting), Kofie (painting), Lisa Alisa (painting), Logan Hicks (photography), Mark Mothersbaugh (rug), Nicholas Harper (painting), Patrick Martinez (painting), Peter Beste (photography), RETNA (painting), Rick Rodney (photography), Rob Abeyta Jr. (painting), Ron English (painting), Saber (photography), Sage Vaughn (painting), Skypage (painting), Stormie Mills (painting), Tessar Lo (painting), Too Tall Jahmal (photography), Usugrow (painting), Will Barras (painting), Yoskay Yamamoto (painting) and more.

The final tour stop will be at Scion's own 4,200 square foot Installation L.A. gallery space where all artwork will be auctioned off to the public, and 100 percent of the proceeds will go toward art-related charities and non-profits.

SCION | Installation Five | Self Portraits

Opening Reception: First Friday, June 5, 2009
8pm til late, free and open to the public
Attending Artists: Peter Glover, Ian Lynam and David O'Brien
Music by DJ Basura (san jose)

Exhibit on view thru June 20, 2009 A.D.

Gallery Hours:
Tuesday through Friday, noon - 7 p.m.
Saturday, noon - 5 p.m.


Gallery hours:
Tuesday-Friday Noon-7 p.m.,
Saturdays Noon-5 p.m.
additional hours by appointment

Anno Domini
366 South First Street
(btwn San Carlos & San Salvador) map
San Jose, CA 95113
t: 408.271.5155


Art • Music • Performance • Life

Get Together.