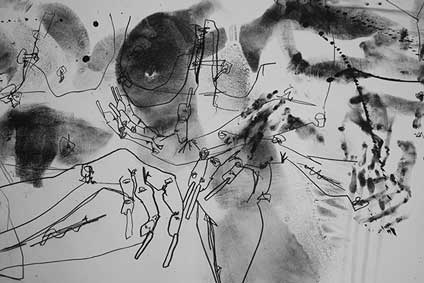 Mexico City based master experimental printmaker, Ivonne Adel- Bureos, aka Play is Soul Food, shares her intimate and unique body prints and drawings created insitu at Anno Domini in March 2021.
Printmaking with bodies: Play Is Soul Food (PISF) and Anno Domini have teamed up and created an exciting new mixed medium body printmaking exhibition, with full sized direct body prints and drawings. The collection of more than 10 large, medium, and smaller scale works, created insitu at Anno Domini will be presented in the show, also titled Play Is Soul Food.
During her visit to California earlier in February this year, Play Is Soul Food spontaneously organized a rare performance with Cherri Lakey and Brian Eder, owners of the internationally known artspace, Anno Domini. These distinctive, one of a kind creations are the artifacts of that performance presented as a cohesive exhibition accompanied with a short documentary video which gives the viewers an introspective/impression of the actual live perfor­mance which took place late March 2021.
Play Is Soul Food, and Brian Edar, co-owner of Anno Domini, worked together for the first time during this secret performance to create this selection of elegant, provocative, and play­ful mixed medium paper based art pieces. With their instinctive spirit and the perfect mixture of trust, communication, precision and respect needed, the two created an impressive collection of raw, touching and delicate artworks. The outcome of this unique performance is now forming the key elements of Play Is Soul Food.
Play Is Soul Food invites the viewer with her Play Dirty performance and artworks to explore the impact and power of Play. The artist strong­ly understands playing as an activity for all ages, way beyond being a child. The exhibition reveals and elevates specifi­cally the importance of Adult Play.
In this new collection of raw, fine art prints and drawings, Play Is Soul Food takes us into a visual journey to question, rethink, and nurture the true importance of play in our daily lives, not just with the people who surround us, but also the relationship we have with ourselves; confronting our insecurities, celebrating our imperfections, experi­menting with our sexualities, and finding balance within our physical and cosmic realities.
About the Artist:
Ivonne Adel- Bureos (a.k.a Play Is Soul Food) has created works that challenge the senses and broaden the understanding on what 'Play' really means in todays societies and cultures through experimental printmaking.
Play is a powerful tool in creating bridges, refining skills, using the imagination, and invention. It's how we evolve and develop on our own and with others as teams. In collaborations, we create new languages and stories. Creating our own history with the materials we leave behind.
"Play is so important in our lives, and has been ever since we were born. It's how we learn, develop, grow, evolve, motivate and inspire ourselves and others…"
Raised in Scotland, and worked and lived in many cities around the world, Play Is Soul Food returned to Mexico to explore further the meaning and understanding of printmaking in todays society.
Formerly a fine art printmaking technician at top print workshops like Pace Editions, New York (now know as Pace Prints), and STPI, Singapore (Singapore Tyler Print Institute), Play Is Soul Food has also collaborated with some of Mexico's most exciting street artists, painters and designers such as Said Dokins, Satterugly, Raul Pardo & JIS (just to name a few). Her experimental limited edition prints and unique artworks are created and published at Ugly Food House in Mexico City; an international Fine Art printmaking studio & workshop she co-founded with Satterugly in 2016.
VIEW & PURCHASE AVAILABLE WORKS ONLINE
Opening reception: First Friday May 7th, 5–9pm
Exhibition dates: May 7–June 12, 2021

Gallery hours:
Thursdays & *Fridays Noon–7pm, (*First Fridays 5-9pm)
Saturdays Noon–5pm