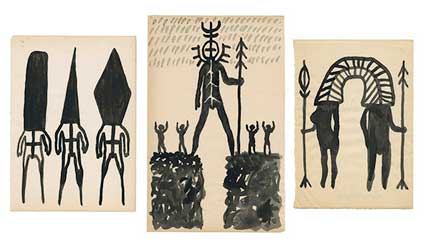 Pablo Martín's series of works on paper are small and full of seemingly cryptic mysteries. Innate shapes take the form of symbolic language–most often "Cabecitas" (small heads in Spanish) – like talismans imbued with esoteric knowledge never meant to be spoken, but only viewed and understood intuitively.
INVENTARIO by Martín consists of 50 original works on various papers used intentionally for their sense of age or different utility. The use of only black (ink, acrylic, watercolor and natural pigments) keeps the focus on the image while avoiding emotional distraction one may have to color. His visual narrative in each image stands powerfully alone, yet it reaches even greater depth when seen in close proximity to other images adding more possibilities to its meaning limited only by our imagination.
"What moves me to work is the search for what I understand as the human factor. For that I am nurtured by the art of native peoples, popular art, outsider and African art. Although I feel that my roots are there, they are also in the present, which allows me to bring those resonances to a contemporary practice that includes objects, installations, graphics, as well as ceramics, murals, painting and drawing.
"I paint and draw using small sticks, on found papers and wood. I choose to use tools and supports that bring me closer to the primal and visceral, to nature, to what is marked by time.
"A recurring image is that of the Head. For years I have been investigating the complexity within that archetypal form, which is mask, face and object. The collective is ruled by ritual, and I am interested in making it visible: human relationships with deities and with our natural environments. Geometry takes the form of imaginary symbologies that build spatialities, links, and hierarchies." ~ Pablo Martín, Buenos Aires, May 2021
About the Artist:
Martín is a graphic designer and a self-taught painter having studied with such notable artists as Eduardo Stupía, Marina de Caro and Matias Duville in studio workshops. He has exhibited in public venues in Argentina such as Centro Cultural Borges, CC Paco Urondo, La Casona de los Olivera and Museo de Arte Popular José Hernández. In 2009 he created Periódica, Grupo de Gestión along with his partner Florencia Fernandez Frank, producing shows, fairs and publications for underrecognized artists. He's been an active member of Proyecto La Estrella – a socially inclusive project based in providing artistic tools to marginalized children from Buenos Aires suburbs. He was invited to participate in art residencies in Mexico DF and Oaxaca (México), Tilcara (Jujuy, Argentina) and Salta (Argentina). In 2015 he obtained recognition under Drawing category at Salón Nacional de Artes Visuales, Palais de Glace. He exhibited internationally in Mexico, Austria, Germany, France and United States.
Martín lives and works in Buenos Aires, Argentina.
VIEW & PURCHASE AVAILABLE WORKS ONLINE
Opening reception: First Friday May 7th, 5–9pm
Exhibition dates: May 7–June 12, 2021

Gallery hours:
Thursdays & *Fridays Noon–7pm, (*First Fridays 5-9pm)
Saturdays Noon–5pm