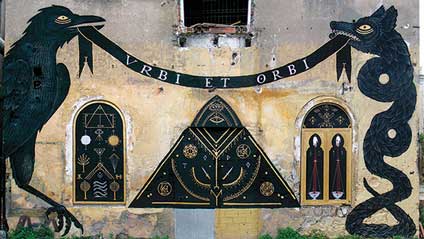 Artist's Reception: Friday August 5, 2016 7–11pm
part of the South FIRST FRIDAYS Art Walk
Leon Ka / aka Kafre (b. Barcelona, Spain 1980) is a Ph.D. student at Universitat de Barcelona with a dissertation on Metaphysical Relations: Ontological Dependence and Metaphysical
Implication as well as a street artist that uses his art to make visual these seemingly abstract and esoteric concepts.
Kafre's solo exhibition Things, Mereology and Schemes is a new body of work focused on three main topics of particular interest to the artist: (1) Things–the distinction between the natural things, non-natural things and the artifacts that occur between them; (2) Mereology–the philosophical and mathematical study of parts and the wholes they form, and (3) Schemes–a scheme consists of a table's structure, which physical constitution is mainly due to columns, names and variables and the relation between them; used to map out something, or to design the internal of a logical system; the main points of an argument or theory, etcetera.
Leon Ka (aka Kafre) is a philosopher whose area of research is analytical metaphysics. His career in the visual and graphic arts began in 1991 with graffiti and began to evolve towards his current aesthetic and street art activism as his interest in metaphysics grew. Kafre has had several solo exhibitions in Spain & Germany, as well as featured in group exhibitions in England, Italy, Denmark, Ireland, France, U.S. and Spain. Things, Mereology and Schemes at A.D. is Kafre's first solo exhibit in the U.S.
Exhibition dates: August 5–October 22, 2016
Gallery hours: Tuesday–Friday Noon–7pm and Saturday Noon–5pm
VIEW & PURCHASE AVAILABLE WORKS ONLINE