Taco de Ojo
a group exhibition by the Latino Toons Collective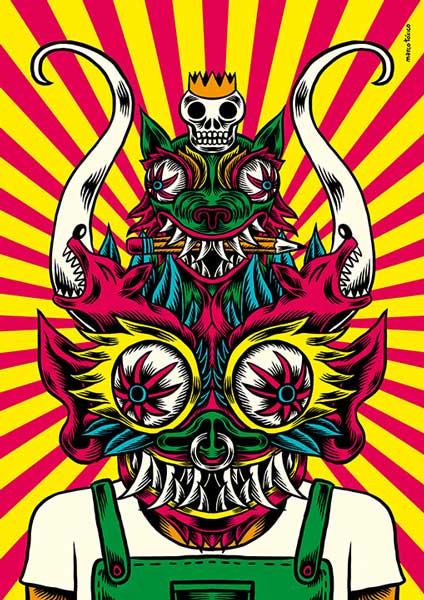 Latino Toons is a Latin American collective of comics, art and poetry with collaborators from the Rio Grande all the way down to Tierra del Fuego. Our influences stem from underground comics, street art, indigenous art, and various forms of counter-culture. We embrace a diversity of styles and backgrounds as a heterogeneous group of proponents of the line. Our varied works reflect a collective interest in an experimental approach towards both the subject matter and technique employed in generating a dialogue that seeks to transcend borders and boundaries.
Taco de Ojo is the name of our self-published anthology, and our current show, both of which showcase the best work from our collective. Combining elements from comics, design, illustration and conceptual art, we seek to push expression to a new frontier. Taco de Ojo is slang for "eye candy," and is synonymous with "getting an eyeful" in Spanish. The Latino Toons Collective aims to serve a meal for the mind and eyes, a richly condimented visual experience colored with flavors from all over Latin America.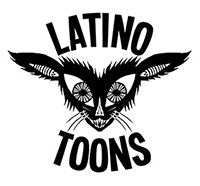 Featured Artists: Enid Balam (Cuernavaca, Mexico), Muriel Bellini (Buenos Aires, Argentina), Matías Bergara (Montevideo, Uruguay), Miguel Det (Lima, Peru), André Ducci (Curitiba, Brazil), Charles Glaubitz (Tijuana, México), Raúl III Gonzalez (Ciudad Juarez, Mexico/El Paso, USA), Tomás Ives (Santiago, Chile), Luto (Cali, Colombia), Cristian Mallea (Moron, Argentina), Marcelo Mosqueira (Buenos Aires, Argentina), Juan Nava (Mexico City, Mexico), Rita Ponce de León (Lima, Peru/ Mexico City, Mexico), Javier Medellin Puyou "Jilipollo" (San Luis Potosi, Mexico), Jorge Pérez Ruibal (Lima, Peru), Marco Tóxico (La Paz, Bolivia), Renzo Vayra (Montevideo, Uruguay) and Oscar Zalles (La Paz, Bolivia).
Opening Reception: Friday, February 6, 2015 from 7–11pm RSVP
Music: El Otro Mundo
Exhibition dates: February 6–March 14, 2015
VIEW & PURCHASE AVAILABLE WORKS ONLINE