Stay in the Light
Ken Davis (US) solo exhibition
Exhibition dates: April 7–June 17, 2017

VIEW & PURCHASE AVAILABLE WORKS ONLINE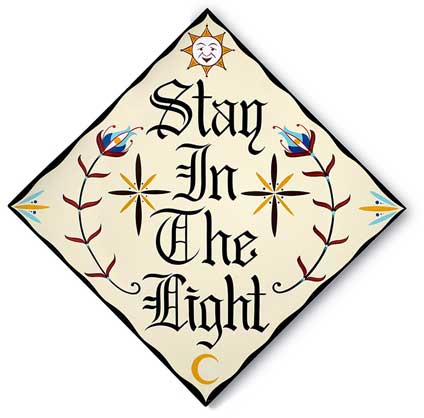 Recognizing the oftentimes cryptic realities of the eternal battle between good and evil, Ken Davis creates a body of work meant to be shields from evils and negativity while acting as signals to attract like minded positive energies dead set on fixing the world around them. A sign painter by trade, Ken uses his skill set of single stroke brush calligraphy and line work to create a language of symbols meant to create an overall sacred piece. These paintings are heavily influenced from a sometimes disputed theory of the meanings behind Pennsylvania Dutch barn hex signs in which these colorful design intensive pieces of folk art are meant to ward off "hexes" or "bad luck". Ken brings a modern dialogue to these in his work by referencing history, numerology, and symbolism relevant to his path and those groups he identifies with while mixing it with his own life experience in the worlds of punk rock, skateboarding, hip hop, and other creative subcultures. In the end, these works Ken creates are meant to ward off the ever creeping darkness in our modern times and attract individuals who are also intent on improving the world for all life.
Stay in the Light is Davis' second solo show at Anno Domini.
Exhibition dates: April 7–June 17, 2017
VIEW & PURCHASE AVAILABLE WORKS ONLINE
---
Gallery hours:
Tuesday-Friday Noon-7 p.m.,
Saturdays Noon-5 p.m.
additional hours by appointment

Anno Domini
366 South First Street
(btwn San Carlos & San Salvador) map
San Jose, CA 95113
t: 408.271.5155


Art • Music • Performance • Life

Get Together.