HVW8 LIVE featuring: Gene Starship, DSTRBO and ty.g
one night only
Friday, April 11, 2003 A.D.
> from 8 p.m. 'til late
free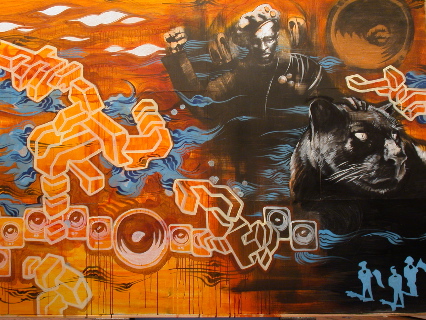 painting from HVW8 Live event, April 11, 2003 at Anno Domini
Excerpt from a recent Tokyo interview:

Formed in 1998 out of the collaborative efforts of a group of like-minded Montreal artists and designers, Heavyweight now boasts as its clients And 1 Basketball, which makes shoes for NBA star Kevin Garnett of the Minnesota Timberwolves, denim manufacturing giant Levi's and Urb magazine. Heavyweight has also been featured in magazines as varied as Juxtapoz, Sportswear International and Paper.

After its formation, Heavyweight developed into a cutting-edge, all-encompassing urban movement, organizing underground parties, music and art shows, posters and creating flyers and stickers all under one roof. The artists borrowed from such influences as rare groove album covers, Japanese pop art, dub, hip-hop, graffiti, and skateboarding and DJ cultures.

One of the main artistic projects of the production house is the highly creative Heavyweight Art Installation, which consists of Buller, Gibney and Starship. The three have found themselves in demand from Montreal to Los Angeles and have now landed in Tokyo, where their art is being displayed at the trendy Parco Gallery in Shibuya. They have also come to Japan to create some new pieces before jetting off to a show in Puerto Rico next week.

"Everything came together when a bunch of us were doing freelance work producing parties and art shows and decided to make it formal," a laid-back Gibney said at the exhibition's opening last Friday.

The idea behind the installation is to have the three artists work together at live venues to spontaneously create 1.8-meter-by-1.8-meter paintings, using the music, energy, location and theme of the event as their inspiration.

With each painting taking about three hours to complete, the process is a challenge in artistic resourcefulness. The live aspect of the show compresses the painting experience into a shortened time frame. The end product is meant to be a document of the night, hopefully capturing the mood, music and electricity of the venue.