Guerrilla News Network
First Friday, May 2, 2003
doors open at 8 p.m., program starts promptly at 9 p.m.
also featuring pre/post show sampledelic electronica and visuals
by CatFive
admission: $5.00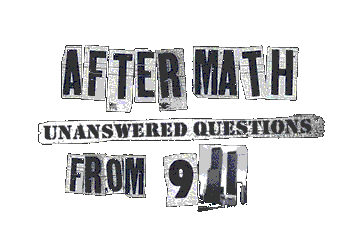 AfterMath: Unanswered Questions From 9/11
With the ongoing confusion over who should lead the federal probe into the September 11 terrorist attacks, we decided to pre-empt the government and produce our own version of a "truth commission." Narrated by Hip Hop legend Paris and featuring interviews shot by GNN syndicate producers in six cities, AfterMath features nine people answering eleven of the most pressing questions that emanate from the terrible and, as yet, unexplained, events of that day. As you will see, these are questions that continue to overshadow and critically challenge the official 'version' of the story.
Join Sundance award-winning filmmaker Stephen Marshall of the Guerrilla News Network - an underground news organization that produces "music videos for people who think" - for a surprising and sometimes shocking look at the darker side of the American political landscape. This screening of digitally-produced video shorts features the newest GNN creation "AfterMath," an examination of some of the unanswered questions surrounding the 9/11 attacks, plus a collection of shorts from the GNN archives. The Guerrilla News Network reveals that the technology of the mass media can be used to provide alternative perspectives in what promises to be an engaging and provocative experience.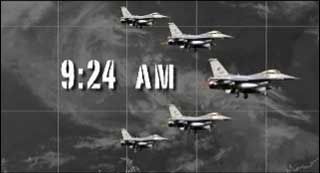 still from AfterMath: Unanswered Questions from 9/11
bio
A writer and video director, Stephen is the internationally-known creator of Channel Zero, the world's first global VHS newsmagazine. Distributed in Tower, Virgin and HMV record stores around the world, Channel Zero became an underground hit and one of the first successes of the small-format video revolution. The Village Voice wrote, "Leave it to a Canadian to revolutionize television." The Toronto Star called Channel Zero, "A mind blowing trip, one neither CNN nor 60 Minutes would ever take." In 1997, Marshall produced the provocative series "The Electronic Eye: Canada as a Surveillance Society" for the CBC's The National and consulted CNN Chairman Tom Johnson on the creation of a youth-based global news network.
Since co-founding GNN, Stephen has directed over 15 NewsVideos, including the Sundance-Award winning, Crack the CIA and the controversial video for Eminem's track, White America. Over the span of his career, Stephen has traveled and worked in over fifty countries.
Narrated by Paris and featuring interviews shot by GNN syndicate producers in six cities, AfterMath features nine (9) people answering eleven (11) of the most pressing questions that emanate from the terrible and, as yet, unexplained, events of that day. As you will see, these are questions that continue to overshadow and critically challenge the official 'version' of the story.


Unanswered Question # 1
To what extent should airlines have been prepared for 9/11?

Unanswered Question # 2
What did the Bush administration know and when?

Unanswered Question # 3
Why wasn't the US military able to intercept the hijacked planes?

Unanswered Question # 4
How did the administration respond to the failures of the military and Intelligence agencies on 9/11?

Unanswered Question # 5
What ties, if any, did the US government and Intelligence agencies have with the terrorists or their supporters?

Unanswered Question # 6
Were there plans for a war in central Asia prior to September 11?

Unanswered Question # 7
Is there an underlying motive, besides the War on Terror, for the US military presence in Central Asia?

Unanswered Question # 8
Is there any historical evidence to suggest that the government may have used the 9/11 attacks to justify its war in Central Asia?

Unanswered Question # 9
How has the government's reaction to the terrorist attacks affected the rule of law in the United States?

Unanswered Question # 10
How has recent legislation like the PATRIOT ACT and the Homeland Security bill affected the lives of American people?

Unanswered Question # 11
What can we do?

Featuring: George Soros, (billionaire philanthropist), Mary Schiavo (Aviation Disaster Attorney), Mike Ruppert (Publisher: From the Wilderness), Nafeez Ahmed (Author: The War on Freedom), David McMichael (former CIA analyst), Michel Chossudovsky (Author: War and Globalization), Peter Dale Scott (Professor Emeritus, UC Berkeley), Alex Jones (Editor: Infowars.com), John Judge (Founder, C.O.P.A.), Riva Enteen (Exec. Director, SF National Lawyer's Guild)