Anno Domini presents...
GLIMMER featuring Christian Breitkreutz (US), Megan Diddie (US), Luciano Scherer (BR) and Collin van der Sluijs (NL)
Artists don't typically run from the darkness, they walk right in and shine their light brightly so that we all may share in what they see. This illumination can have profound effects upon the viewer. Glimmer is a faint glimpse into the minds of four emerging artists.


Christian Breitkreutz (US)
This series of paintings explore a time of renewal and rebirth in life. Drawing from real life experiences this body of work has a positive, uplifting quality to it as well as creating a dreamlike fantasy world for the viewer to get lost in. The work focuses in on the small, often overlooked aspects of life and celebrates them as a glimmer of magic that is rarely exposed to us. This work aims to convey a sense of nostalgia and hope and that not all is lost even in the bleakest of times.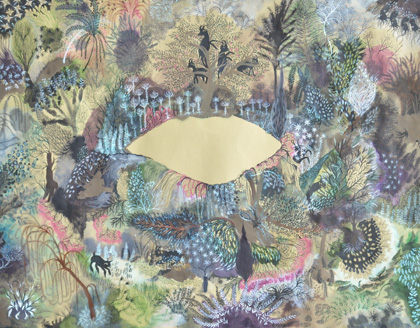 Megan Diddie (US)
My work illustrates myths that I have developed through observation and fascination with a variety of ideas and obsessions. Some of these things include illuminated manuscripts, the vegetal realm, creation stories, altars, car culture in America, horror/sci fi films and literature, nature morte, and teenage subcultures.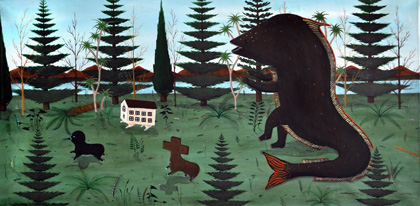 Luciano Scherer (Brazil)
Influenced by nature, ritualism, religions, alchemy, my work represents mysterious happenings in a unique post naive way of painting. Self created myths, animorphs, omni plantaes, metaphysic encounters, strange proportions and geometrical heads looming over impossible forests sometimes in multidimensional ways, running through a unconscious symbolist explosion.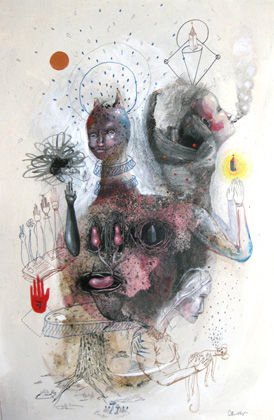 Collin van der Sluijs (Netherlands)
Reflecting on my daily moods, like love, pain, anger, questioning society and place we live in, walking in my own shadow. Get out of it again and translate it back to images. That's what my work is about for the Glimmer show, we are all made out of different components, the ones i try to translate in my work, and let them speak to you.


Exhibition Dates: April 1 - May 21, 2011
Opening Reception: April 1st, 7-11pm RSVP
Live music by Lady Lazarus


Opening Reception is part of the South FIRST FRIDAYS monthly art walk, April 1, 2011. View the full schedule of exhibitions at participating venues: http://www.southfirstfridays.com


Gallery hours:
Tuesday-Friday Noon-7 p.m.,
Saturdays Noon-5 p.m.
additional hours by appointment

Anno Domini
366 South First Street
(btwn San Carlos & San Salvador) map
San Jose, CA 95113
t: 408.271.5155


Art • Music • Performance • Life

Get Together.