Anno Domini presents...

FULL COVERAGE by NSKOLECTIV - October 6-28, 2006
8 Tattooers • 33 Back Pieces • 2 years of documentation

VIEW AVAILABLE WORKS & EXHIBIT BOOK ONLINE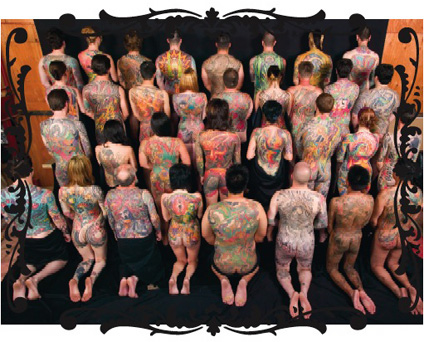 Special Event & Book Release - Thursday, October 19th
The "Collectors" will be presented live in the gallery!
8pm 'til late - free and open to the public
Music by: CUTSO


Tattooers: Jason Kundell, adrian Lee, Paco Excel, Ron Earhart, Nate Banuelos, Matt Shamah, Horitaka & Phil Holt
Photographer: Max Dolberg
Expanding on the Suits Made to Fit project, the in-house, as well as the extended members of San Jose's NSKolectiv have been working for several years to produce a new body of work under the working title Full Coverage. The goal being a series of comprehensive back pieces on living canvases (deemed "The Collectors".) Completed, this project showcases 33 back pieces (generally top of shoulders to back of thighs) presented exclusively in the dermis.
This approach of using the entire body as one canvas, as opposed to multitude of small planes, common in western methods, truly transcends what is commonly perceived as a "tattoo". Throughout the generations, a select few tattooers have embraced and, after years of dedication, mastered this method. The members of the NSKolectiv attempt to approach this level that their predecessors climbed to and in turn introduce their own visual concepts into the timeless forms that have brought the craft of tattooing to this point.
Opening Reception: First Friday, October 6, 2006
8 p.m. 'til late • free and open to the public
Music by: tba
VIEW IMAGES FROM THE INSTALLATION & RECEPTION:
set 1 | set 2
Special Event & Book Release - Thursday, October 19th
The "Collectors" will be presented live in the gallery!
8pm 'til late - free and open to the public
Music by: CUTSO

Exhibit on view through October 28, 2006
Gallery Hours: Tuesday through Saturday, noon 'til 8 p.m.