Over 70 artists from the U.S., England, France, Japan and Columbia participate in this third annual holiday group exhibit. These artists were invited based on their consistent artistic vision and contribution to contemporary culture. Each artist has submitted up to 10 works of original art as well as a large inventory of artist designed clothing, posters, buttons, CDs, books, accessories, and unique product available for $5 - $150.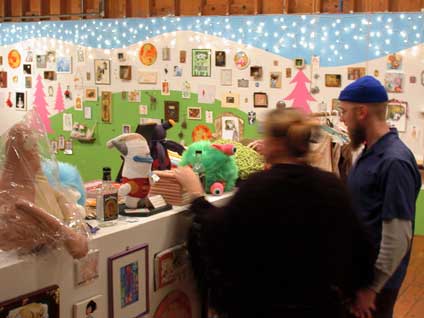 Opening Reception: First Friday December 5, 2003 A.D.
featuring Christmas Carols by CAT FIVE

6pm - 8pm - Collectors' Pre-Sale $20/door (beat the crowd!)
8pm til late - free admission

Exhibit/Sale continues through January 29, 2004 A.D.
Gallery hours: Mon - Thurs, Noon - 5pm and other times by appointment.

All items are cash and carry on a first come, first served basis.

Participating Artists: (view artwork for sale online)

Raquel Peña Aristizabal (Columbia), Lisel Ashlock, AttaBoy, Stefanie Augustine, Jasko Begovic, Damon Belanger, Keith Bormuth, Sean Boyles, S.Britt, Kari Byron, David Choe, Sean Christopher, Chuckles Central, Cire, Alika Cooper, Emily Count, Nicole De Rueda (FR), Nicky Deeley, Megan Donegan, Rob Doran, Carson Ellis, Lloyd Ellis (UK), Francis Estrada, Ezra Li Eismont, Friends with You, Stephen Funk, Fawn Gehweiler, Susie Ghahremani, Trish Grantham, Jenny Hart (Sublime Stitching), Joseph Hart, Kitazawa Heisuke/pcp, Devon Holzwarth, David Horvath, Jack Howe, Cody Hudson, Kelly Jones, Titus Kaphar, Keepsake Society (Chris Duncan & Aki Raymer), Alfonso Kellenberger, Caitlin Kuhwald , Steve Lambert, Adrian Lee, Lomographic Society, Erik Marinovich, MARS, Mega (JP), Craig Metzger , Antony Micallef (UK), Reiko Miwa - (JP), Momoca, Akiko Nakaji (UK), Tucker Nichols , Saelee Oh, Karen Ondracek, Alex Pardee, Miel Paredes, Mike Park, Kevin Panozzo (FR), Ida Pearle, Revelation Studios, Keren Richter, Elsa.S (FR), Andrew Schoultz , Shareta (Sister Lulu), Siloette, Ema Simatarian, Skrunchface Projects, Stupid Creatures, Rachell Sumpter, Ryohei Tanaka, Joe To, Ugly Dolls, Paul Urich, Jessie Vala, Julie Valentine, Ryan Wallace, WonderFarms (JP), Vicki Wong, Roxanne Zuniga

over 50 Book titles featuring the art of:

Banksy, Basquiat, Gary Baseman/Tim Biskup, Broken Wrist Project, David Choe, Clayton Brothers, Joe Coleman, Robert Crumb, Sam Flores, Grime, Kozik, KozynDan, Twist / Espo / Reas, Yoshitomo Nara, Qbert, Ed Roth, Shag, Eric White




view of Fresh Produce installation, © 2003 A.D.


Anno Domini presents
FRESH PRODUCE
opens First Friday DEC 5, 2003
6pm - 8pm – Collectors' Pre-Sale
–> $20 admission (beat the crowd!)
8pm 'til late –> free admision
exhibit: December 5 - January 29
hours: M-Th Noon - 5 p.m.
additional hours by appointment
call 408.271.5151
map to Anno Domini

Get Together. enlist today





Anno Domini's Fresh Produce exhibit is the perfect place to do your holiday shopping or to treat yourself to something nice. Come find original works of art, custom designed clothing, trucker caps, plush toys, calendars, zines, chinese lanterns, greeting cards, buttons, handbags, and coin purses... all created by contemporary artists for today's culture consumers. We also have some of the best harder-to-find art/culture book titles on hand.