"Multiverses" by Fernando Chamarelli, solo exhibition
Artist's reception: Friday, August 3, 2018 from 7–11pm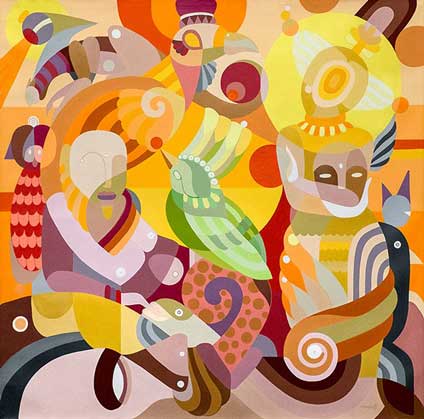 Fernando Chamarelli returns to Anno Domini with a second solo exhibition strongly inspired by quantum mechanics and multiverses. In this body of work are characters from ancient civilizations in contact with cosmic beings from other galaxies and from another time….a parallel universe to be explored.
Fernando Chamarelli is a visual artist and illustrator, with a degree in graphic design. For years Chamarelli explored several techniques and styles of art inspired by his interest in cartoons, caricatures, realistic portraits and later street art and tattoos; Chamarelli ultimately found his unique voice and signature style that is immediately recognizable whether on canvas or out on the street.
Currently the work developed by the Brazilian artist is based on Quantum Physics, String Theory and The Multiverse. In his creations the artist uses elements of different cultures. Civilizations from the past, present, and future, exist simultaneously; characters full of color that inhabit the micro and macro cosmos.
Despite all the rationality and precision of Physics, the observer travels in a surreal world created by intuition and creativity.
Chamarelli tries to use a universal language to communicate, through sacred geometry and various symbols. Transmitting the message that everything is connected, and that in order to evolve we must perceive our connection with other human beings, animals, nature, and the cosmos.
Fernando has worked and exhibited in Brazil, North America and Europe.