Pangea solo exhibition by Fernando Chamarelli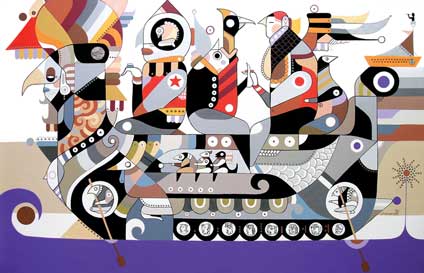 Navigating is necessary.
Our continents are separated by oceans just as our countries are by their borders. With the Internet there is a new meeting of these continents, a virtual meeting. In this cultural society to which I belong, myths, folklores, places, philosophies, symbols and distances can be traveled in a moment.
The virtual Pangea.
We are navigating.


Artist's Reception: Friday, August 6, 2010 from 8 p.m. 'til late
Free and open to the public
Music by DJ Basura


FERNANDO CHAMARELLI (Brasil)
Fernando Chamarelli is a graduate of graphic design. He earns a living as an illustrator and a painter. His art career began with him drawing cartoons, caricatures and realistic portraits. Overtime he became involved in street art and tattooing. Today Fernando merges these early influences and mediums to create his art.
Chamarelli lives in a multicultural country of contrasts. This environment reveals itself through his use of mosaic, geometric elements, organic forms and harmonic lines connecting symbols, legends, philosophies, religions and the customs of ancient and modern civilizations. Within this diversity are the strong influences of Brazilian popular culture and pre-Columbian indigenous art. With the help of the music he loves, Fernando creates colorful, exotic and surreal characters.
Pangea is Fernando Chamarelli's debut solo exhibition in the U.S.
Exhibit on view through September 18th


Part of the South FIRST FRIDAYS monthly art walk, Augutst 6, 2010. View the full schedule of exhibitions at participating venues:
http://www.southfirstfridays.com