Between Water and Sky
, dual exhibition by artists Faring Purth & Daniel Jesse Lewis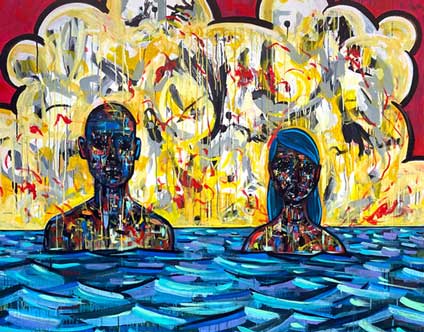 Artists Faring Purth (b. Feb. 1, 1983) and Daniel Jesse Lewis (b. Feb. 1, 1981) reunite with Anno Domini to present: Between Water and Sky a new collection of individual and collaborative works that coalesces throughout the whole gallery.
Visitors of previous Lewis exhibitions (A.D. 2007, 2008 and 2012) will recognize his signature style of capturing the poetic, and sometimes enigmatic moments of the human condition playing out in everyday life. This new series of drawings and paintings have become meditations on family and fatherhood in particular, capturing a specific series of memorable moments from his personal experiences and observations of us all.
Purth's past exhibitions (A.D. 2012, 2014 and 2019) have always included her street artist nature into the gallery. Bold, large scale paintings, complimented by delicate, yet emphatic, drawings of femininity, and insitu installations that provided a glimpse into her contemplative nature and wise spirit. This exhibition features new pen and ink works, as well as mixed media paintings that carries on her introspection into the ephemeral and mysterious.
Over the past year, in conjunction with the birth of their new son, the two artists have created their first collaborative exhibition. It is easy to see elements of both artists in these collaborations. However, in the end, there is an alchemy to this collective body of work that is unique, surprising and exciting to witness.
VIEW & PURCHASE AVAILABLE WORKS ONLINE
Artist's reception: First Friday May 5th, 5–9pm
Exhibition dates: May 6th-June 10, 2023

Gallery hours:
Thursdays & *Fridays Noon–7pm, (*First Fridays 5-9pm)
Saturdays Noon–5pm