Anno Domini presents...

"Victoria Everlasting" debut solo exhibit by Derek Weisberg
feauring a site-specific sculptural installation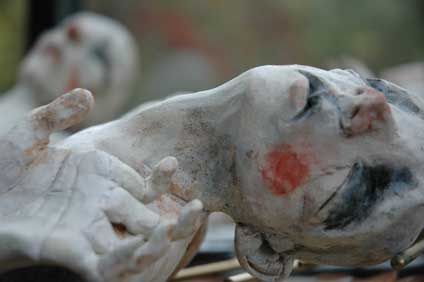 Derek Weisberg's sculptures are inspired by the classical imagery of a time when art was created for the inspiration of the people to connect with the divine. Within the pursuit of artisan craftmanship, Derek's figures are captured in moments of contemplation, anguish and the search for meaning and comprehension of being human during challenging times.
Artist's Reception: First Friday, March 7, 2008
8 p.m. 'til late • free and open to the public
Music: resident dj Nate Nothing
Exhibit ends: April 19th, 2008
View photos from our visit to Derek's studio and the current exhibit:
Studio visit — set 1 | set 2
Gallery installation — set 1 | set 2
Gallery hours:
Tuesday-Friday Noon-7 p.m.,
Saturdays Noon-5 p.m.
additional hours by appointment

Anno Domini
366 South First Street
(btwn San Carlos & San Salvador) map
San Jose, CA 95113
t: 408.271.5155


Art • Music • Performance • Life

Get Together.