Cloud Empire
solo exhibition of new works by Dimitri Drjuchin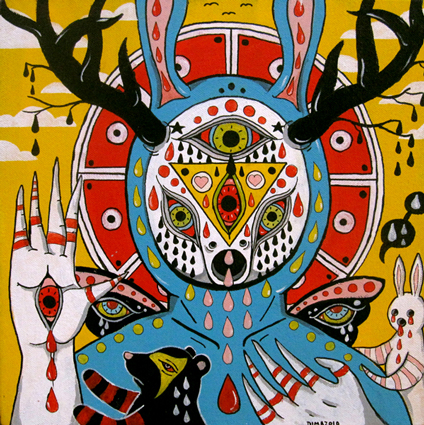 Artist's Reception: Friday, April 2, 2010, 8 p.m. 'til late
Free and Open to the Public
Featuring live music: Jhameel presents a blend of orchestral instruments, makeshift percussion, pop vocal melodies and ambient synthesizers that creates an unfamiliar yet warm atmosphere. At live performances he utilizes violin, trumpet, glockenspiel, percussion, guitar and vocals to create intricate arrangements through a loop station.
DIMITRI DRJUCHIN (NYC)
Wielding the culmination of human potential wrought from the depths of the bicameral mind, Drjuchin's art is a hyperdimensional machine that invokes creatures who come bounding forward with affection and recklessness. These are not the Icons of the Byzantine Church—they are the new Incarnated Symbols of the Multiverse. Drjuchin allows us a glimpse into a fractulated moment of cultural hypnagogic modality and an opportunity to alter our perspectives of reality.
"My work channels different points of reference from my Russian background, to pop culture, to comic books, to fine art, to spirituality, to the occult. I can't truly say that it's a commentary on anything, because I am not interested in judging anyone or any thing. I believe it's more of a reflection of multiple influences that get filtered through my mind and come back out all at once on my canvas redefined to my own liking. That said, I also try not to take anything too seriously and on some level I believe I still paint in a similar mind set I did as a child scribbling on a piece of paper. Most of my ideas are on the spot and I let how I'm feeling at that moment guide me to what happens next in the piece. I think ultimately I'm just trying to entertain myself."
Dimitri Drjuchin is an artist/musician who was born in Moscow, but grew up making images and sounds in New York City. He graduated Parsons School Of Design in 2003 with a BFA in Illustration.
Exhibit on view through May 22nd



Part of the South FIRST FRIDAYS monthly art walk, April 2, 2010. View the full schedule of exhibitions at participating venues:
http://www.southfirstfridays.com