Anno Domini // the second coming of Art & Design
is proud to present...

Todos Tenemos una Calavera / We All Have a Skull
DENO (Madrid, Spain) solo exhibition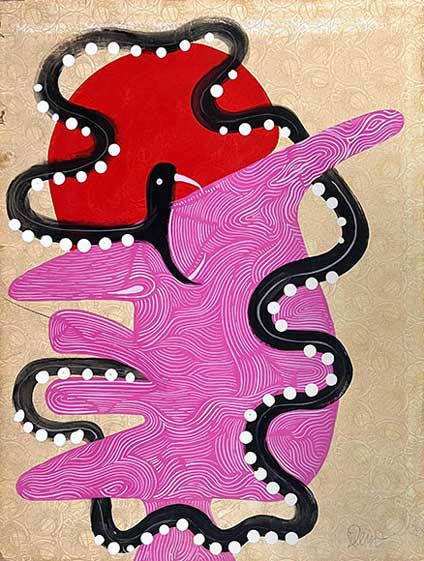 Pablo Vázquez, aka DENO (b. 1977), is an accomplished artist whose creative journey began in the lively graffiti scene of Madrid in 1989. Formerly a member of the renowned KR2 crew, Deno honed his skills and artistic expression through urban art, giving him a unique style that would serve him well as he transitioned into the tattoo arts after earning his degree in Philosophy from Universidad Autónoma de Madrid of Madrid 2002.
Deno has contributed his talents to some of the most prestigious tattoo studios in the world, including Ed Hardy's Tattoo City in San Francisco, Tattoo Paradise in Washington DC, and Seven Doors Tattoo in London.
Drawing and painting have been an essential part of Deno's life since childhood, and as he matured, his travels became a significant source of inspiration for his work as well. The profound questions about the fragility of life and the inevitability of death, as well as the diverse ways different cultures express these contemplations, intrigue and inspire the artist.
The skulls, animals, hands, and other ritual symbology present in this body of work constitute Deno's personal imagery language, developed from firsthand experiences of the various cultures he has observed. Deno finds that the particular works in Todos Tenemos una Calavera enjoy a freedom and spontaneity rarely experienced in tattooing.
The paintings and ceramic sculptures were created during his travels to Madrid, San Francisco, London, Oaxaca, and New York City, among others. This series represents the culmination of all his interests and experiences, weaving together the worlds of graffiti, the ancient art of tattooing, and deep philosophical contemplation into a mesmerizing body of work that defies a singular genre description.
DENO currently lives and works in Madrid, Spain and London, England.
Todos Tenemos una Calavera / We All Have a Skull at Anno Domini is DENO's debut solo exhibition in the United States.
VIEW & PURCHASE AVAILABLE WORKS ONLINE
Artist's reception: First Friday August 4th, 5–9pm
Exhibition dates: August 4th-September 16, 2023

Gallery hours:
Thursdays & *Fridays Noon–7pm, (*First Fridays 5-9pm)
Saturdays Noon–5pm