Anno Domini presents...
Ordinary People
a solo exhibition of new works by Daniel Jesse Lewis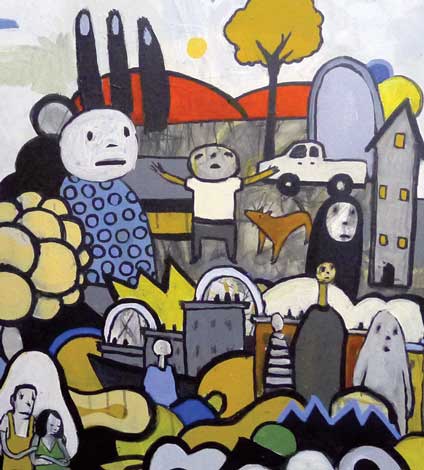 Daniel Jesse Lewis returns to Anno Domini on March 2, 2012 for his third solo exhibition in the gallery. His new body of work, Ordinary People, seems to memorialize the "little moments" throughout the day that often float by unnoticed; Moments we all have, but rarely honor as we should. For Lewis, these paintings are a culmination of things that have been on his mind over the past year, but mostly they're just about people being people.
This series initially began as a remembrance of the stories that Daniel's grandfather shared with him about growing up during the great depression. "He's gone now, and although our lives are very different in so many ways, I am constantly struck by the similarities. Mainly, that borne out of economic collapse, we see the true beauty of the human spirit begin to emerge. We see neighbors banding together to ensure no one goes without. We see people generally re-engaging in their communities in a direct manner, which I think is awesome, and that's what I mean when I say, 'people being people.' It's amazing to look around at the world I live in and watch how people live their lives. I see so many people working so hard, having been dealt such an unfair hand and yet, they find a way to make it work and they find a way to make it meaningful. So many of them wake up knowing that the cards are stacked against them and yet, everyday, they find renewed optimism. They get out of bed, they work their ass off, and they do it with pride and dignity. This just seems to be what people do; no matter how grim, we find beauty, we make music, we share meals, we create traditions, we raise families and we try to leave the world a little better than how we found it."
Opening Reception: Friday, March 2, 2012 RSVP
Music by DRUNIVERSE
Exhibition on view: March 2 – April 21, 2012
Opening Reception is part of the South FIRST FRIDAYS monthly art walk, March 2, 2012. View the full schedule of exhibitions at participating venues: http://www.southfirstfridays.com


Gallery hours:
Tuesday-Friday Noon-7 p.m.,
Saturdays Noon-5 p.m.
additional hours by appointment

Anno Domini
366 South First Street
(btwn San Carlos & San Salvador) map
San Jose, CA 95113
t: 408.271.5155


Art • Music • Performance • Life

Get Together.