Anno Domini presents...
The California State Institution
debut U.S. solo exhibition of Dale vN Marshall (UK)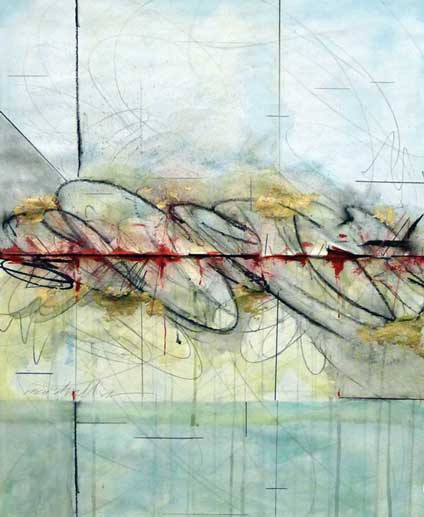 Dale Marshall established himself as a graffiti artist known as Vermin on the streets of England. His raw urban roots are still prominently revealed as his work transitions to a style reflective of contemporary fine art.
In 2010 Marshall received wide attention and success for his sold out exhibition "Room 101" in Bristol, England. He created 101 paintings in 101 days reflecting and exposing his ongoing battles with the rigors and demands of mental health.
Dale's past experience in the UK of hospitalization in an outdated mental facility with its confined interiors travels through time and space to collide with his recent investigation into Southern California's exterior streets where those confining institutional walls have ceased to exist. The work documents the observation of the "walking medicated" from the rich to the poor.
Marshall has been living in California for the past year now. Although it might be easy for him to portray the iconic, commercial side of things he prefers a broader, more honest investigation where he found an affinity to his subject while using public transportation. The intention is to "present the idea of the unrepresented of Californian culture."
While on this journey of exploration, the project transpired into an investigation within himself where he took to the thread to create a series of new works and stitched some old wounds.
For preview/purchase inquiries, please email:
rEvolution [at] galleryAD.com
Artist's Reception: Friday, April 6, 2012 from 7–11pm RSVP
Music: Adira Shark
Exhibition on view: May 19, 2012
Opening Reception is part of the South FIRST FRIDAYS monthly art walk, April 6, 2012. View the full schedule of exhibitions at participating venues: http://www.southfirstfridays.com