Anno Domini presents...
BLOODWORK: BODIES exhibition and book release by
Analog Tattoo Arts Kolectiv (CA)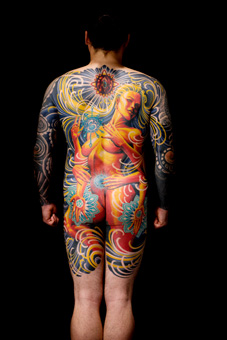 Exhibit Preview: Friday, October 7th, 7–11pm
Music: Steve Uccello 9:30pm (In addition to Steve Uccello being an Upright & Electric Bassist, multi-instrumentalist and composer, he's also known as a live looper. He'll be performing on FIRST FRIDAY as a preview to the Y2KX+1 Int'l Live Looping Festival coming through San Jose at Anno Domini on OCT 12th.)
Artists' Reception & Book Release: Thursday, October 20th, 7–11pm
Music: DJ Cutso
Exhibition Dates: October 7–November 12, 2011


Exhibition Preview is part of the South FIRST FRIDAYS monthly art walk, October 7, 2011. View the full schedule of exhibitions at participating venues: http://www.southfirstfridays.com


Gallery hours:
Tuesday-Friday Noon-7 p.m.,
Saturdays Noon-5 p.m.
additional hours by appointment

Anno Domini
366 South First Street
(btwn San Carlos & San Salvador) map
San Jose, CA 95113
t: 408.271.5155


Art • Music • Performance • Life

Get Together.