Anno Domini presents
BLOODWORK:SLEEVES
produced by Analog Tattoo Arts Kolective
(in conjunction with the San Jose Convention of Tattoo Arts)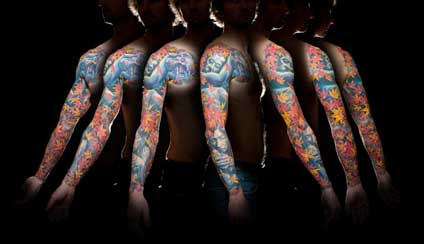 BLOODWORK:SLEEVES is a collaborative project produced by the Analog Tattoo Arts Kolectiv (ATAK). The stated goal is to document, exhibit and publish a comprehensive collection of sleeves by the WTC (World Tattoo Community: abstract concept). Tattooers & collectors from around the globe graciously contributed to this complex collective undertaking.
During photo shoots on several continents (San Jose, London, Zurich, and Los Angeles) sixty-seven sleeves were extensively documented. Next the raw material was combined into three dynamic composite models: windmill, wingspan, and rotation. The intent of the final product is to offer a unique and singular view of the sleeve that, as of yet, has not been put forth.
The extensive range of work within the BLOODWORK:SLEEVES photographic exhibition and publication aspires to provide a broad view of the efforts of contemporary tattooers working today. The ultimate purpose is to compile an unparalleled historical document for review by this and future generations.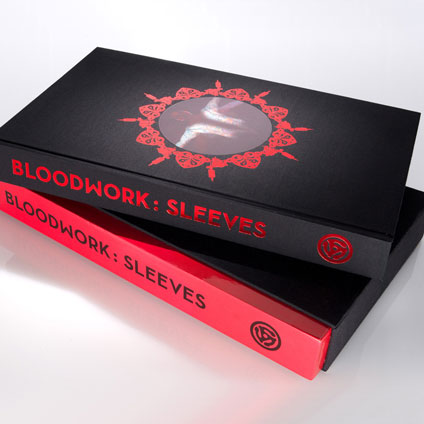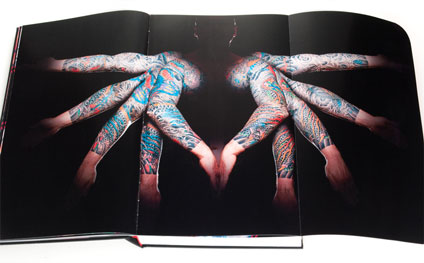 67 sleeves.
Limited edition of 1500 hand numbered copies.
16"H x 9.5"W (30" wide with foldout).
350 hand bound pages printed on heavy art paper.
Metallic, spot matte & gloss varnishes.
Clothbound w/ lenticular cover imagery.
Multi layer die cut slipcase.
Hand stenciled mailing case (limited).
Price: $250.00
Opening Reception & Book Release:
Thursday, October 29, 2009
Doors open at 8 p.m.

Public Reception & Book Signing:
First Friday, November 6, 2009
8pm til late, free and open to the public


Exhibit on view thru November 21, 2009 A.D.


Gallery hours:
Tuesday-Friday Noon-7 p.m.,
Saturdays Noon-5 p.m.
additional hours by appointment

Anno Domini
366 South First Street
(btwn San Carlos & San Salvador) map
San Jose, CA 95113
t: 408.271.5155


Art • Music • Performance • Life


---
Visit us on Flickr...
atomicmonk and astrogirl