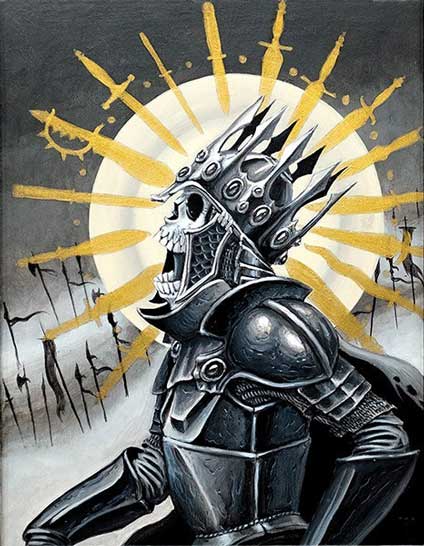 Artwork by George Campis
ANNO DOMINI // the second coming of Art & Design is proud to present the debut exhibition of Black Dagger Books; a group exhibition of tattoo artists featured in their first year of publications.
Black Dagger Books are a series of inspirational collections of works by prolific modern tattooers. Launched in the beginning of 2020, they have featured over a dozen artists diligently making an impact on the industry by showcasing the art, design, and ideas being made that augment their tattooing.
Through monthly publications and gallery exhibitions, Black Dagger is a highlight to some of the most innovative creatives in one of the oldest art forms in human history. As an ongoing volume of books featuring a roster of artists dedicated to their work, this anthology will remain a staple of inspiration for years to come.
Featured Artists:
George Campise (Berkely, CA)
Josh Chapman (St. Louis, MO)
Deno (Madrid, Spain)
Will Geary (Chester, Cheshire UK)
Chad Koeplinger (Nashville, TN)
Shamus Mahannah (Montreal Quebec Canada)
Christopher Marchetto (Northhampton, MA)
Lorena Morato (Cologne, Germany)
Joseph Nickley (Northern, NM)
Samuel Parker (Louisville, KY)
Salty Walt McDonald (San Miguel de Allende, Guanajuato)
Christopher Scott (Albuquerque, NM)
Marie Sena (Dallas, TX)
Robert Ryan (Asbury Park, NJ)
VIEW & PURCHASE AVAILABLE WORKS ONLINE
Opening reception: First Friday March 5th, 5–9pm
Exhibition dates: March 5–April 10, 2021
Gallery hours: Fridays 5-9pm & Saturdays Noon-5pm